On October 18th we will celebrate the release of Tinker's Damn, a collection of poems by David K. Leff. On week two of our previews, we offer you a little tonic for the soul. We invite you to enjoy this poem and share our news with the poetry lovers in your circle. And remember, if you place your pre-order in our store, you will receive your book a full 2 weeks in advance. Visit our Bookstore»
Playing Catch
Summer of sixty-seven I dreamed of grounders
and flies, but we tossed a ball only once,
you barehanded, me clown-like in my overlarge
Mickey Mantle mitt. Throwing hard and fast, your
face a fist, you played as if Mom's goading
was a curve high and tight to the chin.
"Charge the ball! It won't bite!"
you yelled at the clumsy, heavy-footed
twelve-year-old extending the glove like a shield
and closing his eyes. "Cassius Clay ain't
more afraid of the Viet Cong," you said, dropping
the ball and slamming the back door.
Turning fifty, you sent me fifty bucks so I bought
a Rawlings to play with my twelve-year-old Little
Leaguer. Scented like honeyed earth, the glove
recaptured endless Junes of pitch and catch with friends.
Reaching for a can-of-corn pop, I saw the label:
"Made in Vietnam" I read, and dropped the ball.
*Original Photo by David K. Leff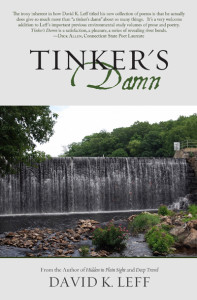 Poems by David K. Leff
ISBN: 978-1-938846-15-1 | 5.5 x 8.5 | 100pgs | Pbk
Release Date: October 18, 2013
Order through our store and we will send your book on October 5th!
About the Book: Deeply rooted in place and time, these poems explore nature, the built environment, and human relationships with an acute sense of reverence and wonder that renews the spirit. Reserve your copy»