Description
Overview
Job loss.  It's not something that most people want to think about, whether it happens to them or not–but in modern society, it's all too common for the words "lay off" and "company downsize" to grace a conversation about how life is going.  Through an honest look at the emotions, feelings, and everyday challenges that can come with losing a job, author Heidi Barr illustrates what going through such an event is like. From disbelief to financial concerns to anxiety over the prospect of a two hour commute after ten years of working from home, this essay explores the uncertainty of not knowing what might be coming next, along with the potential for uncovering the beauty that might just be hidden under what feels like destruction.
Praise for What Comes Next
"For anyone afraid of losing a secure job, or secretly wishing they would, this little book is a template of what to expect beyond the expected.  For as its author processes her own job loss, she puts the experience into the perspective of our culture in which financial worth is equated with self worth. But beware: Heidi Barr is fiercely honest with herself, and invites readers to be likewise!  I just wish I'd had copies to hand out to congregants struggling with jobs that had turned them into the walking dead. This book may have tipped them into saying no to what diminished body, mind and spirit, and given them courage to say YES to more authentic life/work."
—Rev. Gail Collins-Ranadive, author of 8 books, including forthcoming A Fistful of Stars, Communing with the Cosmos  
"With wit and honesty, Heidi Barr relates what she calls 'lessons from a layoff,' when her 'what if' became 'what now?' Navigating the tension between having the work we do define us and finding what truly matters, Barr questions her own work ethic and ability to see beyond the job. Her capacity to transcend a personal moment of destruction reminds us that we all can dig deep, see beauty, and trust in its ability to heal us, inside and out."
—Amy Nawrocki, author of The Comet's Tail: A Memoir of No Memory
"'No life situation is permanent,' Heidi Barr writes in her book-length essay, What Comes Next. For a decade, Barr's telecommuting corporate position as a health coach afforded her family the opportunity to live simply on their land in rural Minnesota. When Barr's unexpected layoff threatens to upend this beautiful way of life, she gathers strength from the natural world surrounding her and the insights gained from her years as a health coach. To read Barr's words is to be welcomed into the center of her efforts to stay present while traversing the disquieting liminal zone between jobs. This small—but powerful—book illuminates thoughtful strategies for anyone navigating challenging times of transition."
—Heidi Fettig Parton, essayist and former Publisher of West Academic Publishing
"Like many of us, Heidi Barr experienced the uncertainty and fear that accompany a job loss. In What Comes Next, she dives head first into a season of discernment, pondering productivity and worth; privilege and 'what ifs;" and success and meaning. Drawing on the wisdom of writers, poets, counselors, and the natural world, Barr shows us to let life's purpose in by yielding, rather than fighting. Her recognition that '…beauty is best uncovered in the rubble of destruction" is a balm in these unsettled times.'"
—Iris Graville, author of Hiking Naked: A Quaker Woman's Search for Balance
"Heidi Barr writes eloquently about the heavy emotions behind career loss and how it changes the way we view our internal world. This book will have you thinking deeply about what your true purpose in life is and how you personally equate that to your value and self-worth.  Her words will have you remembering that we are not what we do for money, we are what we do for love and peace. You will walk away with a fresh perspective on the resilience that lies within the human soul."
—Nik Tebbe, Writer and certified Grief Support Specialist
"What Comes Next is a brief but powerful journey into a world many of us can envision: suddenly losing a vital job. Barr's strong, resonant writing takes us from placing boundaries between people who create bad energy to experiencing more love and compassion to comprehending that productivity does not equal worth. In search of a happy, fulfilling life, maybe work should not be the defining feature of our identities. We should follow Barr's lead, notice the hummingbirds more often, practice serenity, and realize, as she does, that life's sudden turns are not always catastrophes, and beauty doesn't always look how we think it should."
—William Huggins,  Author of Ghosts (forthcoming) and contributor for Texas Review in Books
"This is a gorgeous little book, full of wisdom and reflection on what it means to start again, what it means when our familiar security is taken away, and ultimately what it means to live a good life. Heidi Barr has a gentle poet's eye and a touch rooted in love for the earth, and her reflections are intertwined with quotes from thinkers and descriptions of her beautiful home surroundings, reminding us always to look. It's a book that exposes the wound of loss that may of us feel in today's society where we have so much and sometimes so little—inspiring and healing, this book is a true companion during the changes that so many of us go through."
—Alison Smith, Poet and Therapist
"A day is more than just its hours and minutes. This is just one of the mustard seeds of truth author Heidi Barr plants in her timely and poetic essay, What Comes Next. Our modern society doesn't want you to think about things like the real meaning of a day. And because our days have become so packed full of demands on our constant attention, it is easy to overlook such simple truths. The poet John O'Donohue said, 'Your life becomes the shape of the days you inhabit.' Barr's essay illustrates this prophetic statement in accessible but profound ways. By its end, readers will find themselves asking why we would ever accept a world that demands we hide or neglect the things we treasure most in life."
—Thomas Lloyd Qualls, award-winning author of Painted Oxen and Waking Up at Rembrandt's
"Fashioned from wholeness, Heidi Barr takes us on a journey of healing. It's a wonderful moment when we realize life is not something that happens to us, we are not defined by our circumstance. We are willing participants with the ability to make our lives better for ourselves, our family, and our community."
—Mark Daniel Seiler, award winning author of River's Child and Sighing Woman Tea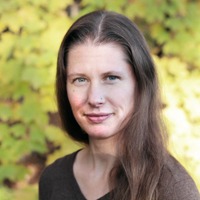 Heidi Barr
Author
Heidi Barr lives in Minnesota with her husband and daughter where they tend a large organic vegetable garden, explore nature and do their best to live simply. As a mother, spouse, gardener, and wellness coach, she is committed to cultivating ways of being that are life-giving and sustainable for people, communities and the planet. Heidi holds a Master's degree in Faith and Health Ministries, and coordinates with yoga teachers and organic farms to offer nature-based retreat experiences. Visit her at heidibarr.com.