To celebrate National Poetry Month in April, we will release Amy Nawrocki's latest collection, Reconnaissance. In her latest collection, Amy plays voyeur and thief, surveying canvases and investigating bookshelves, searching for creativity's origins and exploring the nature of inspiration. The poems in Reconnaissance uncover muses between the frayed pages of Byron and Shelley, in Chagall's stained glass, at Oscar Wilde's grave, past the deep bogs of Glencoe, and in the far away snow caps of Mount Fuji. In these insightful and elegant poems, Nawrocki invites us to believe in "the authenticity of first sight." Open the paint box and learn how to stare.
Advance Praise
Poem by poem, year by year, Amy Nawrocki's work has expanded in reach and confidence. Its fruition is here in her new collection, Reconnaissance—a wonder of seeing, painting, photographing, eavesdropping, thieving ("I stole van Gogh's sadness and painted it on my shoulder"), spying, finding a way through a world that alternately stuns her, saddens her, delights her. Nawrocki is particularly in love with describing paintings and painters (in "Poem for Salvador Dali. . . ", "I dreamt last night of a mustache"), with fitting past history to current life ("Toward a New Deal," about the FDR Memorial in Washington, D.C.), with jazz ("a slow / trombone slithers and hands skim the wood torso / of an upright bass, leaving the bow behind / for the kinesthetic of the body"), teaching writing ("Bless the first day of class") and sometimes even whimsy (as in "Ode to My Brain," which begins "How you itch inside my skull. . . . Stop itching, you silly brain"). Most aptly named, Reconnaissance is a welcoming collection of excursions from the inner self to the outward presence. Nawrocki over and over convinces us that the observed and the felt—be it painting, place or person—forever clings to and changes the observer. A warm, rich, valuable and important collection. I most highly recommend it for buying, reading and rereading. What a pleasure it is to have followed this poet on her path to such true accomplishment.
—Dick Allen is the author of This Shadowy Place: Poems
Looking out a train window, Randall Jarrell saw "the chairs and tables of the world." The view from Amy Nawrocki's metaphorical window—and the stuff of her latest book, Reconnaissance—is art, all kinds of art: Rothkos, Sargents, Dalis, tattoos, jazz records, Anaïs Nin, an old copy of Shelley, a statue of FDR. But while the subject matter is certainly interesting, even fascinating, it is Nawrocki's clear, witty, gem-cut style that's the book's real subject. In these poems, a bonsai tree "pretends toward age," the artwork of Sol Lewitt resists "tremors of an inexact hand," an X-ray reveals "one of van Gogh's sunflowers dying inside me, just beneath my ribs." These are exquisite poems, but not rarified and frail, not afraid of the rougher light of ordinary day. Two poems,"Cimetìere du Père Lachaise" and "The man sitting next to me is reading The Idiot" are alone worth the price of admission. But it's an elegant, wonderful book, cover to cover.
 — John Surowiecki, author of Flies
"Amy Nawrocki deftly probes the areas of existence where sense is made or lost: the space between perception and interpretation; the interplay between artifact and memory.  Where her subject is the human body and its frailties, the poems soar."
—Audrey Henderson, author of Airstream
"What inspires artists, and what does their work mean to us? In her latest collection, Reconnaissance, poet and UB English professor Amy Nawrocki considers how we're moved by art and understands our seemingly universal need to respond. As the title to this exquisitely wrought collection of poems suggests, Nawrocki 'plays the coy, indistinct watcher' who trains her sights on all kinds of art—Chagall's stained glass, Monet's light-infused canvases, a Rothko series and the lyrics of Charlie Parker. She ventures out of museums, steps away from curated bookshelves, and finds that creativity abounds in unexpected ways and places: a sunflower tattoo on her shoulder, etched while accompanied by a classmate who later dies in a freak accident ('we wanted to ink into the eternal') becomes 'the story I kept hidden,' a mini life work etched on skin. Later, Nawrocki writes: 'One of van Gogh's sunflowers [dies] inside me, just beneath my ribs,' suggesting the visceral desire to create touches all of us in ways that are broader and deeper than we might first imagine."
—Leslie Geary, Editor, Knightlines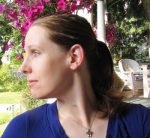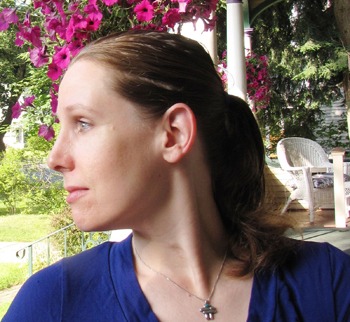 Amy Nawrocki is a Connecticut native, raised in Newtown and now living in Hamden. She earned a Bachelor's degree from Sarah Lawrence College and a Masters of Fine Arts from the University of Arkansas. She has received numerous honors for her poetry, including awards from the Litchfield Review Poetry Contest, the Codhill Chapbook Competition, The Loft Anthology, Phi Kappa Phi, New Millennium Writings, and the Connecticut Poetry Society. Finishing Line Press published her three chapbooks: Potato Eaters, Nomad's End, and Lune de Miel. With her husband, Eric D. Lehman, she wrote A History of Connecticut Wine, A History of Connecticut Food and A Literary History of Connecticut. She teaches English and Creative Writing at the University of Bridgeport and is mother to two cats, Maple and Django.