River of Love
A Novel by Aimée Medina Carr
*Shop in our store. You will save 20% off your entire order with coupon code INDIESTRONG. In addition, you will support the ideas and culture beyond the mainstream!  
Plus, as always, you'll receive free shipping on orders over $40.00
Overview and Advance Praise
River of Love is a supernatural Love story about a fierce Indigenous Mexican American girl growing up in a white Colorado town during a youth-led cultural revolution of the 1970s. It's a Love letter to the Southern Rocky Mountains, to the Spirits, to a close-knit family, and even to youth itself. The Arkansas River is a vital character, as is the environment, and wisdom of the ancestors. Things that happen when you're young seem so much more important because they're happening for the first time. Indigenous Mexican Americans straddle two very different cultures; this story focuses on how we are all connected. Power is lost by moving in a forward direction the whole time looking backward. Mistakes are portals of discovery. Trust The River ~The Flow ~ the Lover, to be in the present, trying not to make things happen, to not push The River. Let things come and go on their own, to flow like a riverbed. The storyculminateswith the high school friends gathering at a 40th school reunion. Attachments are invisible threads that reach through dimensions of space and time. Infinite Love shapes our lives. Love is what we are made for, and Love is who we are. What if caring for each other is the summit? At all costs stay connected.
 Advance Praise
"River of Love is an insightful journey into the hearts and souls of an Indigenous community en la tierra encantada of Southern Colorado in the 1970s when the country was being transformed by a youth-led cultural revolution."
—Richard Rohr 
"Evocative, touching storytelling about a region and people that doesn't get enough coverage. A fine debut!"
—Gustavo Arellano, Los Angeles Times
"What a wondrous blend of juicy Chicana culture and contemplative insight. River of Love is a wellspring of wisdom embodied in the heart of a good story, the living landscape of the awakened feminine voice."
— Mirabai Starr, author of God of Love and Wild Mercy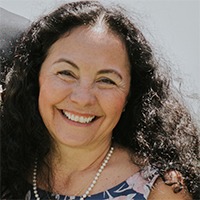 Aimée Medina Carr
Author
Aimée Medina Carr is a fifth-generation Indigenous Southern Colorado native, who lives in northern California in the foothills of the Sierra Nevada Mountains with her husband, two grown sons, two cats, and a Labradoodle.
She worked for ten years in film and television production. Her debut novel River of Love received Honorable Mention for the Landmark Prize for Fiction Award given by Homebound Publications in 2018.
Indigenous peoples' have survived by storytelling-a form of resistance. We're the ancestors of an age to come-a collective spirit through the centuries that work to make a difference, every generation has to move the boulder of good forward. If we don't tell our stories, who will?
Que Viva las Palabras!
You can visit Aimée at aimeemedinacarr.com.
Get notified about the newest products and upcoming sales