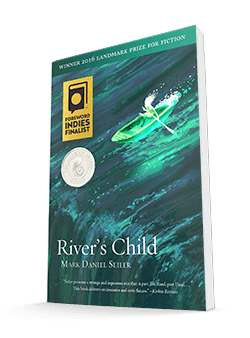 Trapped underground in the Svalbard Seed Vault, Mavin Cedarstrom is rescued by a band of strange women dressed in furs. The Peregrine scout Simone Kita was sent to recover seeds from the top of the world and bring them south to the floating gardens of Kashphera.
Conjuring myth and magic, this fun, action-packed novel is a delight. River's Child is a wild ride into an ancient future. "Imagine Homer and Mark Twain eating peyote with Carlos Castaneda while writing a book together," –Seiler writes. "River's Child is the best summer read since the Rig Veda." Fasten your seat belt as our spirited heroes ride icebergs from the frozen north, battle wild men, and fall in love while they race to prevent world war.
Advance Praise for River's Child
"Seiler presents a strange and ingenious mix that is part The Road, part Dune. . . This book delivers an inventive and eerie future."
—Kirkus Reviews
"Deep under Norway's Svalbard mountain, the world's plant seeds are preserved in a vault designed to withstand global crises, including the apocalypse. Biologist Mavin Cedarstrom, a long way from his home on the Zuni reservation in New Mexico, is the only human in the vault when that terrible day arrives. After he awakens from cryogenic sleep nearly a thousand years later, the world has changed dramatically. No trees grow taller than three feet, no written histories and technology from Mavin's time remain, and there is widespread famine. But humanity has adapted. Mavin is rescued by Simone Kita, a warrior of a matriarchal society charged with returning seeds to her city in the south. While Simone feels a growing obligation to keep Mavin safe, he struggles with survivor's guilt and a millennium of unanswered questions. Together, the duo travel south into a world of new myths, magic, and intrigue. VERDICT: Winner of the publisher's 2016 Landmark Prize for Fiction, Seiler's (Sighing Woman Tea) eco-novel is a thought-provoking dive into a future after the dystopia gives way to hope. Strong storytelling makes this a solid choice for book clubs interested in complex characters, environmental discussions, and gender issues."
—Library Journal
River's Child had me thinking deeply about humanity, our past, and our future, all while being caught up in the story of Mavin, a Zuni Indian who travels the starkly altered landscape of a future Earth and stumbles into a pivotal role. On the one hand the story feels like science fiction; on the other the protection of seeds and the urgent quest for abundant growth doesn't read like a far cry from the state of our planet. Underlying the often turbulent story is a steady current of ancient wisdom—a welcome balm. The story plants a seed, in more ways than one.
–Katherine Hauswirth, author of The Book of Noticing: Collections and Connections on the Trail
Mark Daniel Seiler
Mark Daniel Seiler is a writer, poet, and musician who lives on the island of Kaua`i. His debut novel, 
Sighing Woman Tea
 was a winner at the Pacific Rim Book Festival 2015 and was nominated for the Kirkus Prize. Mark's second novel,
River's Child
was recently awarded the Landmark Prize for fiction. He is currently working on a murder mystery set in Hawaii. Mark worked alongside Masters from Japan and Taiwan to build the Hall of Compassion in the Lawai Valley. He describes himself as a life-long learner, who got a very late start. Visit Mark at
www.sighingwomanteas.com