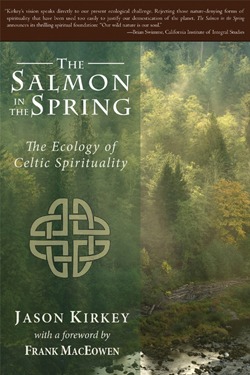 The Salmon in the Spring: The Ecology of Celtic Spirituality
Jason Kirkey
with a foreword by Frank MacEowen
Soul and Nature—the inner and outer landscape—are one: they are the wildness of the world and the wildness of the self.  To alienate ourselves from one is to alienate ourselves from the Other.

Praise for The Salmon in the Spring

"Here at the end of the Cenozoic Era with the life systems withering away, a surprising creativity appears, a kind of mystical balancing act.  The world's spiritual traditions are entering into deeply engaged conversations through which the riches of each are ignited in new ways.  With The Salmon in the Spring, Jason Kirkey has boldly carved out his place in this exciting work with his original interpretations of the concepts and stories of ancient Ireland . . . Kirkey's vision speaks directly to our present ecological challenge.  Rejecting those nature-denying forms of spirituality that have been used too easily to justify our domestication of the planet, The Salmon in the Spring announces its thrilling spiritual foundation:  "Our wild nature is our soul."
—Brian Swimme, California Institute of Integral Studies
The Salmon in the Spring presents a new perspective on Irish myth, interpreting traditional tales through the lens of ecopsychology and Buddhist insight. Kirkey's readings are clear, compassionate, and respectful of the tradition while at the same time offering relevant openings for a global interest in Celtic spiritualities and their potential as a source for ecological healing in a time of great crisis. With exemplary honesty about his sources and inspirations, Kirkey weaves a poetic and poignant argument for the necessity of reexamining Western mythic models as we search for balance in a swiftly changing biosphere.
—Erynn Rowan Laurie, author of Ogam: Weaving Word Wisdom
When I listen to Jason Kirkey retell the old tales and the ancient truths from the Celtic mystical tradition, I am encouraged that the wisdom of our ancestors can still inspire a modern spiritual life. His "silver branch perception" helps us re-imagine ourselves as a species so we can live sane and relevant lives. The Salmon in the Spring is an eloquent calling to be fully present and engaged in our time and place in both human and mythic history.
—Tom Cowan, author of Fire in the Head and Yearning for the Wind
Jason Kirkey
Author & Found of Hiraeth Press
Jason Kirkey is an author, poet, and the founder of Hiraeth Press. He grew up in the Ipswich River-North Atlantic Coast watershed of Massachusetts. With a background in both environmental philosophy and conservation biology, Jason's work is focused on rewilding the human heart and mind. He has written four volumes of poetry, including Estuaries, and a nonfiction book, The Salmon in the Spring. Jason is currently at work on his second nonfiction book and a novel.