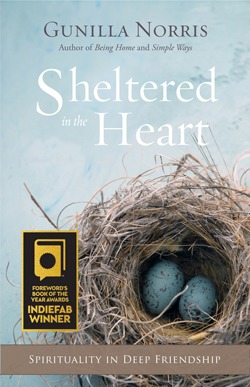 Sheltered in the Heart
Spirituality in Deep Friendship by Gunilla Norris
2013 Pushcart Prize Nominations
2014 Nautilus Book Award Silver Medal
Winner 2014 Next Generation Indie Book
Winner 2013 Foreword Review Book of the Year
Overview
To have the deep love of a friend is to have the shelter in which to embody more and more of the essence that we each are. In her book Gunilla Norris shows how in holding each other with trust and compassion our shells fall away and we emerge into the world as freer beings. Participating in a true friendship is profound and holy work. This book is a gift for the journey.
Praise for Sheltered in the Heart
"Gunilla Norris has gifted us with a marvelous little book on creating and nurturing authentic friendships. Read this book slowly—like a prayer book. The poetry of her words will bless you with every page-turn. Sheltered in the Heart sings of a resilient faith lifted out of the dance of life. I joyfully recommend it."
—Macrina Wiederkehr, O.S.B., retreat guide and author of Abide: Keeping Vigil with the Word of God
"Gunilla Norris's remarkable reflections on friendship inspire and guide us to the deep place where we can 'see the stars in one another.' A marvelous book to gift the friends who sustain and enrich our lives."
—Joyce Rupp, award-winning author of numerous books including My Soul Feels Lean: Poems of Loss and Restoration
"In her graceful, elegant, and pensive writing style, Gunilla Norris muses on the incomparable treasures of deep friendship. She mines the spiritual depths of this intimate relationship and challenges us to open ourselves fully to its emotional radiance and precious beauty. In these times of increasing social isolation, we all need to be nurtured by steady friends who are with us for the long haul."
—Frederic Brussat, SpiritualityandPractice.com and co-author of Spiritual Literacy
"Here, Norris brings her poetic prose and deep wisdom for finding the holy within the human to a high view of friendship where Spirit works within us to foster the spacious, healing companionship of compassion that connects us to all of life; within, between, and beyond."
—Greg Johanson, Ph.D. co-author of Grace Unfolding: Psychotherapy in the Spirit of the Tao-te ching
 "This is a book about the long body of friendship: its inherent and demanding contradictions; its ineffable mysteries; and most important, its understanding that deep friendship is essential to a vibrant and meaningful life. Gunilla Norris offers up her pearls of wisdom from the depths of lived experience. Upon finishing her book I wanted to contact every one of my significant friends to tell them how they were an immeasurable blessing to me, and to tell them I was sending a copy of Sheltered in the Heart so that they could understand exactly what their deep friendship meant to me."
—Gail Straub, author, activist, Co-Founder Empowerment Institute
"Like a master diamond cutter, Norris deftly works her words to reveal the myriad facets of the mystery of sacred friendship in all its grace and durability. What she offers are the luminous contours of life's most precious gem, whose worth is beyond calculation, whose every feature refracts not just light, but enlightenment."
—Kathleen Deignan, CND
Gunilla Norris
Author
Gunilla Norris, a psychotherapist in private practice for forty years, has had the privilege of accompanying many people on their journeys to growth and healing. Her has taught meditation and led contemplative workshops of many kinds. She has published eleven children's books, two books of poetry and eight books on spirituality: Being Home, Becoming Bread, Inviting Silence, Embracing the Seasons, A Mystic Garden, Simple Ways, Match, and Sheltered in the Heart. Homebound Publications releases Companions on the Way this Fall.