Sheltered in the Heart: Spirituality in Deep Friendship has won the 2014 Nautilus Silver Medal in the Relationship and Communication category and has been named a finalist in Foreword Review's Book of the Year Awards in the Mind, Body, Spirit category! We're so proud! What a wonderful way to kick off the 2014 award season! Visit our bookstore to add Sheltered in the Heart to your home library. Our Bookstore»
About the Author: Gunilla Norris' parents were world travelers in the Swedish diplomatic corps and so she grew up essentially in three places — Argentina, Sweden and the United States. As a child she was given a rich exposure to different languages and cultures.
She received her B.A. from Sarah Lawrence College and her M.S. from Bridgeport University in the field of human development. She is a mother and a grandmother. She has been a psychotherapist in private practice for more than thirty years and has felt privileged to accompany many people on their journeys to growth and healing. Her special love has been teaching meditation and leading contemplative workshops of many kinds.
As a writer Gunilla has published eleven children's books, one book of poetry and six books on spirituality including: Being Home, Becoming Bread, Inviting Silence, A Mystic Garden and Simple Ways.
Reflecting on her success thus far she comments, "When I published Being Home in 1991 I did not know that I had begun a series of books on what I now call household spirituality, or the practice of spiritual awareness in the most mundane and simple of circumstances. Together these books seem to me to be like a crystal with many facets. They are part of one thing and yet shed light from different perspectives on the humblest of our day-to-day tasks. It has always been my understanding that when we are really present in our daily activities, our lives become more luminous, filled with love and grace."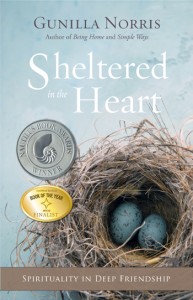 About the Book: To have the deep love of a friend is to have the shelter in which to embody more and more of the essence that we each are. In her book Gunilla Norris shows how in holding each other with trust and compassion our shells fall away and we emerge into the world as freer beings. Participating in a true friendship is profound and holy work. This book is a gift for the journey.