On October 18th we will celebrate the release of Tinker's Damn, a collection of poems by David K. Leff.  We invite you to enjoy this poem as a preview and share our news with the poetry lovers in your circle. And remember, if you place your pre-order in our store, you will receive your book a full 2 weeks in advance. Visit our Bookstore»
Shoes
Blame the shoes for my tears.
After saucer-eyed half-tone photos of soon dead
children, images of fenced-in hollowed-out souls
with starved, bird-like bodies, and rough-hewn
wooden villages seething with life destined
for Blitzkrieg oblivion; after the cattle
car, heaps of hair, and gold-cloth stars
I cried over the shoes.
Randomly piled, cracked, gray and shrunken
with time, in styles and sizes to suit
every taste, I couldn't help but imagine
the stolen feet they'd embraced. Footwear
formed from animal flesh, now bent, rippled
and bulging with distinct foot shapes,
I saw stillborn remnants of lost lives
in those pediform death masks. When my
grandmother died I found shoes
like these, perfectly shaped to her foot, old fashioned
as Yiddish inflected English. She'd sailed years
before Kristallnacht, New York's harbor
sparkling like crystal, like hope. A girl
cowering in a fetid ditch, she escaped
the blood-spattered rampage that took her parents
from a world the War erased. "That was the old
country, tateleh," she quavered
as I stood near her father's whiskered portrait,
proud of my bristly teen cheeks.
"In America, we don't have beards."
Returned to daylight, I blinked like a newborn
on streets where all men are created equal.
Eschewing faces, I glanced down
to ethnicities of loafers, pumps, sneakers, boots,
sandals and flip-flops. Despite decades
and thousands of miles, I felt history's heel
and the gravity of my own dumb luck. Conscious
of every footstep, I walked in well-fitted shoes.
* Original Image by David K. Leff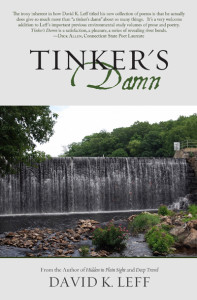 Poems by David K. Leff
ISBN: 978-1-938846-15-1 | 5.5 x 8.5 | 100pgs | Pbk
Release Date: October 18, 2013
Order through our store and we will send your book on October 5th!
About the Book: Deeply rooted in place and time, these poems explore nature, the built environment, and human relationships with an acute sense of reverence and wonder that renews the spirit. Reserve your copy»