The Temple of Warm Harmony
Poems by Frank LaRue Owen
*Shop in our store. You will save 20% off your entire order with coupon code INDIESTRONG. In addition, you will support the ideas and culture beyond the mainstream!  
Plus, as always, you'll receive free shipping on orders over $40.00
The Temple of Warm Harmony is a book of poems, but it is also something of a map. Some of the poems are about the author, some are about the reader, while other poems are about the times we're all living through. A blend of mini-exorcisms, healing incantations, dreams, and invitations to numinous ways of observing and experiencing life, the book is divided into three parts: In the World of Red Dust, Heartbreak and Armoring, and Entering The Temple of Warm Harmony. On the heels of his award-winning first book of poetry, The School of Soft-Attention, poet Frank LaRue Owen invites "fellow travelers" to consider ways we can regain a sense of harmony even while navigating challenging terrain, personally and collectively.
"Frank is a true man of the Great Way. A contemplative poet of the highest rank, breathing out poetry with each exhalation. The Temple of Warm Harmony is an act of devotion, a spiritual roadmap of the Way."
-Andō, Zen poet, writer, and mentor, author of Small Silences and The Forest: A Haiku Memoir

"These poems are guideposts, some freshly-painted on roadside signs, others etched onto rocks we may have to dig a little through the underbrush to discover. The digging is the key. 'Right outside your door is a wonderworld,' Owen reminds us. His words are an excellent companion for the exploration."
-Chris La Tray, Chippewa-Cree Métis, author of One-Sentence Journal: Short Poems and Essays from the World at Large, winner of the 2018 Montana Book Award
"A book to revisit any time you feel disconnected from living in a way that makes you glad to be breathing."
-Heidi Barr, Co-founder of 12 Tiny Things, author of Prairie Grown, Woodland Manitou, and What Comes Next 
"Each poem in this gorgeous book outdoes the next. Frank LaRue Owen's work is lyrical and wise, overflowing with spirit and soul, delicate but tough. This collection is, indeed, a temple of warm harmony, built word by word from love."
-Jennifer Heath, Founder/Director, baksunbooks & arts, author of A House White with Sorrow and On the Edge of Dream: The Women of Celtic Myth and Legend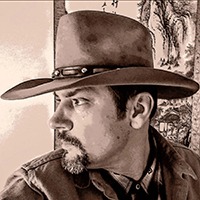 Frank LaRue Owen
Frank LaRue Owen's poetry is influenced by dreams, the energies of landscapes and the seasons, ecopsychology, Ch'an/Daoist hermit-poetic tradition, and Zen living.
He studied for a decade with a Zen woman who —inspired by Ch'an and Daoist tradition— blended silent illumination (meditation), dreamwork, mountain-and-forest spirituality ("landscape practice"), and poetics into a unified path.
Additionally, Owen studied eco-literature and eco-poetry with the late Jack Collom of the Jack Kerouac School of Disembodied Poetics.
In the Spring of 2017, his first book of poetry, The School of Soft-Attention, was selected as the winner of the 2017 Homebound Publications Poetry Prize and published a year later.
His second book of poetry, The Temple of Warm Harmony, will be released Fall 2019.
Get notified about the newest products and upcoming sales