An Excerpt from "Chapter Four: Genesis" from Saving the Farm by James T. Powers
It was warm for late October and the scent of fall hung over the old burial ground despite the heat. Erastus looked sadly at the newly carved headstone that held his father's name. "Luther Dudley". "Born Sept. 16th 1755, Died Sept. 14th 1810". But it was the epitaph below that he could not pull his eyes from, transfixed.
Bubbles our wasting lives betoken
The shuttle stops the glass is broken
And like a stream that passes by
Is man who only lives to die
It had been ordered carved by his grandfather Jared who seemed to have taken the death of his son as a personal affront. Erastus and his brothers had asked him not to include the poem, but the old man had insisted, so there it was. It seems that even in death, Jared wanted the last word when it came to his son. As he stared at the stone his brothers Loveman and Prosper called out as they passed by the clapboard meetinghouse their great-grandfather had helped to build. They had all agreed to meet and talk of the family's future and all three had agreed the site of their father's resting place a fitting location for they all knew at last he was at peace.
Erastus and his brothers had watched as their father had taken to imbibing in the corn liquor made by neighbors and friends more frequently over the past ten years. They understood how his dreams had been dashed by the realities of life but could not comprehend the melancholy that increasingly enveloped him. Luther had been a good father, Erastus remembered, always attentive and eager to help and advise as he fussed about the gristmill that had become his escape and his prison. Since the time of his youth, he had recognized a sadness and frustration in Luther that he realized grew out of circumstance and a powerless inability to change it.
Erastus and his brothers knew of their father's eagerness to do more with his life and how he felt trapped by Jared's desire to keep him in place for the good of the family. The small two over two room house they had grown up in held few secrets. It was however, the news of their oldest brother Luther's death that really seemed to bring about a change. Lost during a voyage to the South Sea while whaling, it seemed from that time on their father had begun to withdraw into himself and to drink the corn liquor the neighbors brought along with their corn to be milled. Erastus remembered the awful night young Luther had left and the terrible row that had taken place. His brother had proclaimed that he did not want to be trapped as his father was and how he longed for more in life. Shipping out of New London on a whaling bark would give him that chance he said as he stormed from the house to the mournful cries and of their mother, convinced she would never see him again. She was right.
One year later, in 1800, a worn, yellowed letter came from the captain of the ship, delivered over time and oceans from one ship to another until it had arrived in New Haven, expressing his deep sympathy for the loss of their son who had died just three days after the ship had departed for the South Pacific. Stunned, Erastus remembered, his parents had said nothing and his father just walked down the Durham Road to the mill and his elixir. Luther, he knew, blamed himself for his eldest's death, knowing he had been powerless to provide him with the means to make a living on his own. But it was the death of his youngest brother, Frederick, that Erastus knew caused Luther's life to unravel.
Freddy was just sixteen when he joined his brother. He had been unloading sacks of corn to be ground at the mill when the oxen, which stood passively to the front of the cart, were startled and backed it up against the loading platform pinning Freddy between it and the wheel. Luther had dropped his empty jar off the platform, causing the beasts to jump. He blamed himself for his youngest death, and his downward spiral quickened. It was then that Loveman and Erastus had taken over the responsibility of the mill, knowing as the weeks following Freddy's death turned to months, that their father could not be counted on to work the stones. Luther began to take long walks up the ridges across the Durham Road and often they found him seated atop the one called the Three Monks, for it was from there he could look out to Long Island Sound and the sail he thought would return his oldest son.
When Luther came down with a bilious fever, the family watched the fight for life leave him. Their mother said nothing yet tended him night and day. Their grandfather had stormed angrily to his son's sickbed, demanding that he get up and return to his business at the mill; as if somehow returning to the life that had broken him would cure him. His last day had been curious; a smile of contentment had enveloped his feverish face until the evening when Luther quietly died, seemingly at peace for the first time in memory. Prosper had been with him and had awakened his mother who had been slumbering in her chair. As always, Mary said nothing, but kissed her husband's forehead and left the room to fix a meal for her boys.
Luther's burial followed quickly after his body had been waked in Jared's parlor at his insistence and Erastus had found it sad how the old patriarch had gazed in disbelief at his departed son mumbling quietly how if only the hand of the lord had been different. But now, here they were, as Loveman and Prosper came to stand beside the marker as well, staring at the freshly carved brownstone Jared had erected, a testimony to their fathers' unfulfilled dreams. His struggle was now theirs and each was determined to see it end differently.
The death of his son may or may not have been the trigger that sent Luther Dudley into a spiral, but it certainly would have been a devastating shock. There is no more poignant message of how Luther and Mary felt than the inscription they placed on their son's gravestone in the North Guilford Cemetery as a memorial following the news of his burial at sea. It reads:
In Memory of
Mr LUTHER DUDLEY
Who left his native shore
29 of Septr 1799 on a voyage to
The Pacific Ocean: and was lost
On the 3rd Day; having just
Entered the 21st Year of his Age.
The poem they had carved on the stone is especially telling:
Adieu my friends, my parents dear,
The heaving sigh, the falling tear
Wilt nought avail; by God's decree
I slumber in the roaring sea!
Then humbly bow, and kiss the rod
Adore and love a sovereign God;
And let your fixt endeavour be
To fit for death, and follow me.2
Luther Dudley had indeed lived a life of diminished expectations and increasing frustration and in many ways he typified what was happening to many families throughout the region. Land, which had traditionally been the measure of wealth during the past 150 years, had become expensive and difficult to obtain. There just wasn't enough to support the large families and with Jared either unwilling or unable to partition his holdings Luther had been condemned to a life of dependency. With local farms too small and inefficient to compete with those larger more prosperous ones to the west of New England, Luther's small holdings were barely sufficient. Luther remained dependent upon his father for his entire adult life despite the fact that he did own a total of 72 scattered acres mostly used for the maintenance of his livestock. The 1799 U.S. Census identified Luther as a farmer by occupation and listed his total assets at $206.12 which include the following pieces of real estate:
18 Acres of English mowing (hay)
6 Acres of pasture
6 Acres of boggy meadow
8 Acres of fresh and salt meadow
30 Acres of bush pasture
8 Acres of unenclosed land
72 Acres Total
Luther's personal estate was also listed in the census and it was broken down into two categories; money and livestock. He possessed only 12 "Silver Notes" and $10.00 "money on interest". The livestock was listed as follows:
1 2 yr old Oxen
7 3 yr old Cows
2 2 yr old Cows
2 3 yr old Horses
When Luther died in 1810, his family would have been listed as:
Husband: Luther Dudley Age 55
Wife: Mary Chidsey Age 53
Son: Loveman Dudley Age 29
Son: Erastus Dudley Age 27
Son: Nathan Dudley Age 25
Son: Oliver Dudley Age 20
Son: Prosper Dudley Age 17
Predeceased:
Son: Luther Dudley (b. 9/6/1779 and d.10/1/1799)
Son: Frederick Dudley (b. 1787 and d. 1/18/1803)
Of his three oldest surviving sons, only Erastus had remained in Guilford by the time of Luther's death. The two youngest, Oliver and Prosper would certainly have faced the hard choice of leaving soon as their prospects would have been meager. Oliver would eventually move to Alabama where he established his family and Prosper to Ohio. Loveman had moved to Virginia some time earlier in the decade and Nathan had left in the early part of 1810 for the West, first to the Buffalo region of New York and then later on to Kentucky where he eventually married and started a family. Tragically he drowned in the Ohio River.
Loveman Dudley had apparently returned to Guilford either just prior to his father's death or shortly after, for he does factor into the settlement of his father's estate and is afterward listed in residence in North Guilford. But these were dark days for the family and with few options or resources available to them the conversations held between the brothers must have been earnestly tinged with a sense of desperation. With their grandfather Jared still living, perhaps in time some sort of settlement for the future might be found.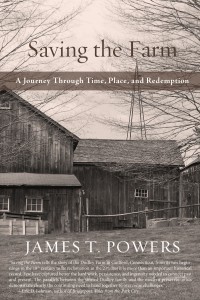 Saving the Farm: Journey Through Time, Space and Redemption
by James T. Powers will be released worldwide March 2, 2013!
About the Book: Saving the Farm; A Journey through Time, Place, and Redemption is the story of how the Dudley Farm of North Guilford, Connecticut became a museum to preserve and represent a vanishing past. By itself, that story may not be of any great importance, but at a time when local farms are all but gone, the struggle to save the farm for future generations took on a crusade like quality for the small group that took on the task and the hundreds who supported their effort. Faced with unrelenting residential and commercial development, a lament repeated in neighborhoods across New England was heard in the small community of North Guilford—is this what we want? Can we preserve the history and heritage that made us who we are or will it be lost forever in the name of progress?
Pre-order Saving the Farm in our bookstore or on Barnes&Noble.com.