The Baobab Room
by Père Jacques de Foïard-Brown, with  Marilyn Nelson 
Hardcover with a flyleaf • 52pgs • Illustrated • Children
*Shop in our store. You will save 20% off your entire order with coupon code INDIESTRONG. In addition, you will support the ideas and culture beyond the mainstream!  
Plus, as always, you'll receive free shipping on orders over $40.00
Overview and Advance Praise
Here, Father Jacques de Foiard Brown, the priest fictionalized in some of Marilyn Nelson's poems as the hermit monk "Abba Jacob," combines his own voice with that of his fictional self to write about how he learned to meditate from a baobab tree which was his boyhood's "best silence teacher." Observing the baobab and the creatures who lived in its trunk and branches taught him about beauty, friendship, generosity, vulnerability, compassion, and the community of living things: lessons he tells us we can learn ourselves, without having a nearby baobab tree, by going inward in meditation. Listening to silence may help us to see the connection between the natural world and faith. Some of the oldest baobab trees, between 1,000 and 2,500 years old, have died in the last decade. The giant redwoods and sequoias, some over 3,000 years old, are dying off. It's time to listen to the trees.
"There's a song in the silence!" write the authors of The Baobab Room. And what a commodious song it is. We listen in to it where it stirs in the heart of a huge, ages-old baobab tree and where it is heard by the host of God's creatures who live in the tree. The song celebrates the spirit of compassion, the spirit of living together in peace, and most of all, the spirit of understanding that comes from deep listening.  
– Rennie McQuilkin, CT Poet Laureate (2015-2018)
Marilyn Nelson makes Abba Jacob and his wonderful baobab room come alive. This is a tale about inner beauty, the room inside the tree, the room inside each on of us where in silence we are taught to be inclusive, to live in mutual respect with nature and other human beings.
– Gunilla Norris, author of Sheltered in the Heart and Simple Ways
Relax into this charming tale with its elegant illustrations. Jacques Brown and Marilyn Nelson remind us to engage with the stunning world around us. If we only pay attention, we can "reach for the magical inside, listen to silence, take in the magic of being." The children listening to the storyteller, Abba Jacob, understand his message. Standing at the center of a rich web of stories and characters, this single baobab tree has much to teach us. Every tree has much to teach us.
–Stephen Trimble, author of Bargaining for Eden and Talking with the Clay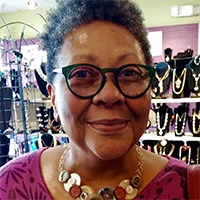 Marilyn Nelson
Author
Marilyn Nelson, a three-time finalist for the National Book Award, is one of America's most celebrated poets. She is the author or translator of more than twenty critically acclaimed books for adults and children, and the recipient of many honors and awards, including the Frost Medal, the Golden Rose Award, the NSK Neustadt Award, and the NCTE Poetry Award. She has served as a Chancellor of the Academy of American Poets, as Poet-In-Residence of the Cathedral of St. John the Divine, and as Poet Laureate of Connecticut.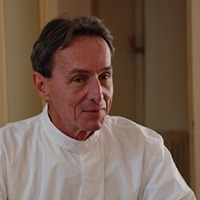 Father Jacques de Foïard-Brown
Author
Father Jacques de Foïard-Brown of Mauritius leads retreats and conferences in France and elsewhere. He spent part of his boyhood in Zimbabwe, after which he was trained at the University of California, Davis as an agronomist and received a post-graduate degree in developmental economics at Cambridge University. He received God's call one day and entered the Benedictine monastery of Solesmes in France, where he remained for seven years. Returning to his country of origin, he was ordained a priest and a teacher of Christian meditation. He has lived in a hermitage for almost forty years, while serving the communities that surround it. The Baobab Room is his first book.
Get notified about the newest products and upcoming sales