Overview
In The Bone Pile: Essays on Nature and Culture, author Maximilian Werner uses the vehicles of fly fishing, every day experience, and some of our most sacred rituals to explore the origins and limitations of our behavior and ideas. These essays range from the quasi-mystical to the polemical and from the polemical to the ecological. However different each of these essays may be, together they represent an incisive study of human and nonhuman life and of the environment that unites us.
Advance Praise for The Bone Pile
"Inspired by fly fishing, household tasks, family, friendship, and beautiful scenery, these meditative essays on nature, technology, ecology, religion, and wildness amplify awareness and wonder. They awaken us to think deeply even as we go about life's most ordinary errands."
–David K Leff, author of Canoeing Maine's Legendary Allagash
"Maximilian Werner is a fly fisher with the heart of a poet—or perhaps a poet with the heart of a fly fisher. The Bone Pile doesn't set out to preach metaphysics. It sets out to describe what is, and it does so with a careful, thoughtful, and thought-provoking observation and prose. But while the beauty of the writing is in the details . . . the book also does what the river in one of Werner's essays does: it 'shows us how we appear on the outside, but it also shows us what's happening on the inside.'"
–Matthew Dickerson, author of Trout in the Desert
"Maximilian Werner's The Bone Pile is a wonderful addition to the literature of nature and adventure, as well as a beautifully written meditation on life and death. With an eye for telling details, Werner confronts the contradictions between our daily lives and our ideals with rare courage and intellectual vigor. This is a book that will surprise you, heal you, and maybe even change the way you interact with the natural world."
–Eric D. Lehman, author of Afoot in Connecticut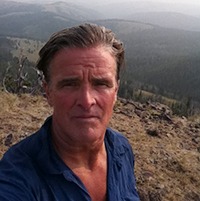 Maximilian Werner
Maximilian Werner is the author of four books, including the natural history and memoir Evolved: Chronicles of a Pleistocene Mind and the memoir Gravity Hill. He is an Assistant Professor in the Department of Writing and Rhetoric Studies at the University of Utah, where he teaches several courses, including Environmental Writing and Writing about War.