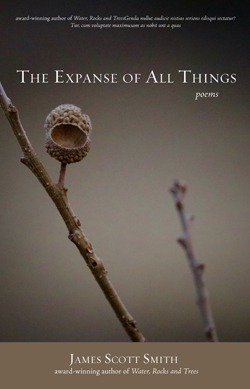 Overview
In the spirit of coyote guidance through the borderland of liminal space, James Scott Smith is offering one exquisite cairn after another to the soul wandering but not lost. The Expanse of All Things is a testament of the journey from form to faith, and of the love for tradition as long as it serves the evolution of consciousness. This collection runs the seam between culture and nature with an aching hunger for experience transformed.
Advance Praise
"For those of us who live in a small world, every single poem in this collection is a home where we feel cozy and assured. For those of us who live in a big world, James Scott Smith's poems are echoes of the deepest voices within us that are forced into oblivion during the day, but return unsolicited into our selves in the night and escort us into our dreams."
–Tony Huang, founder of Metacircle and Metacircle Fellowship, Tianjin, China
"The Expanse of All Things will remind you to wonder who you are, and encourage you to let the wild silence of the stars renew you time and again. Finding truth in the broken beauty of human experience is not an easy feat, yet James Scott Smith demonstrates that all things have the capacity to expand in ways that bring healing, life, and a reason to place your gaze firmly on the mystery of being alive."
–Heidi Barr, author of Woodland Manitou: To Be on Earth
James Scott Smith
Author
Over the course of his life, James Scott Smith has lived in Michigan, Massachusetts, Kansas, California and for the last 23 years, Colorado. He studied psychology and religion while beginning his work as a psychotherapist, a wilderness guide, and a spiritual leader. He went on to create and lead a system of learning organizations designed to deliver holistic, experiential intervention in traditional and alternative settings. Breaking from his formal career in 2006, James enjoys his family and home life, the Colorado backcountry, his dogs, photography and writing.