In her latest collection, Amy Nawrocki plays voyeur and thief, surveying canvases and investigating bookshelves, searching for creativity's origins and exploring the nature of inspiration. The poems in Reconnaissance uncover muses between the frayed pages of Byron and Shelley, in Chagall's stained glass, at Oscar Wilde's grave, past the deep bogs of Glencoe, and in the far away snow caps of Mount Fuji. In these insightful and elegant poems, Nawrocki invites us to believe in "the authenticity of first sight." Open the paint box and learn how to stare.
Look for Reconnaissance in paperback and ebook, on Amazon, B&N, Kindle, Nook, and Kobo or ask for it in your local indie bookstore. In the meantime, enjoy a selection. | Visit our Bookstore>>
The man sitting next to me is reading The Idiot,
and everyone seems to be engaged in conversation:
two regulars parler in quick sentences, the thin one appoints
the red-cravated waiter. Two blonde women suggest
with their hands that they do not care about the silent man
sitting by himself, biting the side of his mouth, staring at bicycles.
Everyone seems to be engaged in conversation
stuck in the lobes of their ears. A pair of shaded specs
speak without words to numbers on a cell phone.
The red-cravated waiter sulks; two blonde women suggest
replacing the used lemon that sits crosswise and upright
against the side of the glass. The glass drips, melted like
conversations everyone seems to be engaged in
with lips thrust together in puckered slopes toward
unused air, not pronouncing all those extra letters
the red-cravated waiter holds in his pocket suggesting
the answer to questions asked by the cigarette dangling
from an unlit mouth mirrored in the silent man's cup.
Everyone seems to be engaged in conversation with eau de vie
as the red-cravated waiter and two blonde women suggest.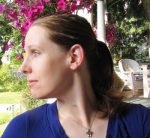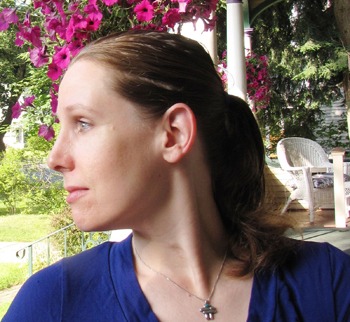 Amy Nawrocki is a Connecticut native, raised in Newtown and now living in Hamden. She earned a Bachelor's degree from Sarah Lawrence College and a Masters of Fine Arts from the University of Arkansas. She has received numerous honors for her poetry, including awards from the Litchfield Review Poetry Contest, the Codhill Chapbook Competition, The Loft Anthology, Phi Kappa Phi, New Millennium Writings, and the Connecticut Poetry Society. Finishing Line Press published her three chapbooks: Potato Eaters, Nomad's End, and Lune de Miel. With her husband, Eric D. Lehman, she wrote A History of Connecticut Wine, A History of Connecticut Food and A Literary History of Connecticut. She teaches English and Creative Writing at the University of Bridgeport and is mother to two cats, Maple and Django.