My girlfriend Amy and I spent a sunny March day sightseeing in northern Connecticut. We had taken numerous photographs of remarkable trees, such as the famous Pinchot sycamore, and visited Ender's Falls in the pine forests of the Tunxis hills. Then, after a day of exploring, we were ready to relax. Amy had put up all day with my stubborn refusal to mark our destination. "Are you going to tell me where we're going?" "Guess." She rattled through a list and hit the jackpot: an inn. Earlier, she had guessed a bed and breakfast, which I denied. They are different planets as far as I'm concerned. A bed and breakfast is simply someone's open house, but an inn is a lodging tradition, a living museum, a gathering of people and their history.
 This was Amy's first inn. I had lodged at inns in Europe, but never in America. They were rare here, like otters or elm trees. Even bed and breakfasts were not common, and those that were scattered across the expansive American landscape cost three times what they did in England, a haven for only the nostalgic wealthy. The rest of us can always drive farther now, staying to the superhighways and convenient hundred-room hotels. And what really makes the inn different than a "hotel?" If you have to ask, you've never been to an inn. You could adopt an inn, staying on as a permanent resident, and it would feel like home. "Inns are scarcely public places in the sense that railway stations, Town halls, and museums are public places. They are semi-private. We know that they are commercial undertakings; yet in a good inn we have, and should have, the feeling of making one at the home of a family who are keeping open house in the manner of the old squire on feast days," Thomas Burke tells us in The English Inn. No hotel can claim this distinction, cramped by the same dependence on time that we ourselves feel.
 At an old crossroads on the scenic Route 20, a bridge led to the front door of the Old Riverton Inn, proclaimed by a sign secured to the roof of the three-story building. In the times before automobiles, stage drivers would stop at their favorite inns, bringing travelers and business. There were several rival stage companies that operated between New Hartford and Riverton in Connecticut, part of a larger network of the Hartford to Albany post route. The gray-sided Riverton Inn, built in 1796, is the only survivor of this lodging-path. A bay window in the tavern downstairs occupied the place where a front door would have stood in former times. Huge pines shaded the colonial inn and thickened up the river valley's flanks. A friendly sign hung from a branch of one of these old trees above the innyard carpark, telling us "Hospitality for the hungry, thirsty, and sleepy."
 Inside, the thick-beamed dining room spread out past the grandfather clock foyer. The muraled Hobby Horse Bar, with floors of Vermont flagstone, extended to the back of the inn. Saddles balanced on kegs, which remained from an earlier age to serve as bar stools. To the north an enclosed grindstone terrace appeared closed for the season. Each room brimmed with antiques and tasteful novelties, which in another setting might be considered tacky. As The English Inn tells us: "Old fireplaces, beautiful windows, carven doorways, staircases, king-posts, moulded ceilings – indeed, all those interests that you can only otherwise indulge at a museum can be indulged at the old inn. The stuff is there in situ."
Our room perched above the restaurant, directly above the table we would dine at later. The liberal windows granted views of the west branch of the Farmington River and the old Hitchcock chair factory. The centerpiece was a generous king-sized Hitchcock bed with antique headboard. A long green chaise lounge angled in the corner for daybed lollygagging. Floral wallpaper, an antique spinning wheel turned into a planter, and an old fireplace completed the nostalgic tableau. A step up into the bathroom led to white towels on mahogany racks and the exposed pipes of an ancient sink. And as a surprise I had prepared for Amy, on the chest of drawers near the door a bottle of champagne rested on ice next to a wrapped box of fine chocolates. The living, timeless romance of the inn leant itself greatly to this more common form, solidifying and enhancing an act that might in other places be considered trite and over-sentimental.
A candlelight dinner for two was also on my romantic menu that night. At a corner table by the roaring fire, we sipped a fine cabernet. For an appetizer we shared mushrooms with gorgonzola. For the main course, Amy chose the porkloin and I had the duck. Desserts, wine, everything was perfect and ordered, linking us to the long history of satisfied patrons. Time drew out and lingered, burning as slowly as the great fire that warmed the March rooms. We stumbled back upstairs to a full night's rest, feeling the complete effects of hospitality.
 A place outside of time, a gathering of people and history, stability and permanence in our time-scattered lives…the inn was all this and more. Restored by its love, Amy and I enjoyed a country breakfast in the morning before heading off to hike the snowy People's State Forest. As we left the innyard, another car pulled in, another story ready to happen, leaving no break in the romance of continuity.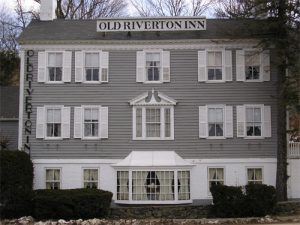 Afoot in Connecticut: Journeys in Natural History by Eric D. Lehman is now available.
Visit the book's page to learn more >>
Text:© Eric D. Lehman | Inn Image: Eric D. Lehman | Wine Image: Red Wine by Emiliano De Laurentiis