The results of the first annual Landmark Prize for Fiction are in and the winner is: River's Child by Mark Seiler!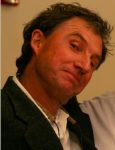 Mark Daniel Seiler lives on the island of Kauai with his lovely wife, Rebecca, in the little home they built overlooking the Pacific Ocean. His debut novel, Sighing Woman Tea was a winner at the Pacific Rim Book Festival 2015 and was nominated for the Kirkus Prize. When he isn't playing violin or building wooden boats, he enjoys volunteering at the Lawai International Center for Peace. Mark is a master carpenter who joined local artists and masters from Taiwan and Japan to help build the Hall of Compassion in the Lawai Valley. Mark is an active board member of the Lawai International Center and the Koloa Jodo Shu Mission. He describes himself as a life-long learner, who got a very late start.
The Finalists are Invictus by L.L. Holt and Teaching Fish to Swim by Lucy H.G. Solomon, with Honorable Mentions for A Taste for Salt Water by Sharon Whitehill, Lest The Forgotten by Michael Rohan, Four Women by Nancy Owen Nelson, The Outlook for Earthlings by Joan Frank and The Only Journey by Clyde Derrick.
Look for River's Child by Mark Seiler Spring 2018 from Homebound Publications!