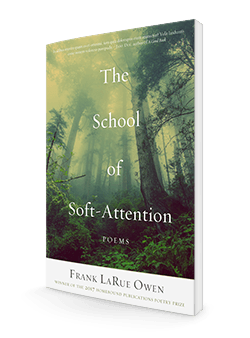 Overview
It has been said that poetry can be a marker of where a poet has been, or a way for a poet to point to places where we, the reader, can go. Both types of poems appear in The School of Soft-Attention. Not corralled to any one poetic style, the heart-mind-river that forms this flowing collection has been shaped by the author's diverse cross-cultural experiences, spiritual tutelage with a New Mexican wisewoman and wilderness guide, and fueled by such practices as meditation in the Zen tradition, mountain pilgrimages, fasting in the deserts of New Mexico, and intensive dreamwork. At every point along the way, the poems in The School of Soft-Attention invite the reader to turn to a new way of seeing, a new way of paying attention to the life within and around us.
Early Praise for The School of Soft-attention
"The Zen-influenced poetry of Frank LaRue Owen comes from a place of great emotion, restraint, and insight. His work honors the memory of his teachers, with words of encouragement that move the mind forward, while still mindful of the travails of the present. I am honored that Mr. Owen uses my music during his creative process and has shared his work with me. His short poems function much like music that wafts in and out of a listener's consciousness, in an abstract realm of understanding."
-Forrest Fang, Chinese-American composer, ambient musician
"With echoes of Tufu, Basho, Thoreau, Gary Snyder, Mary Oliver, and others, yet with a voice throughout that is authentically and distinctively his own, Frank LaRue Owen's The School of Soft-Attention gracefully incorporates many influences, both ancient and modern, East and West, Japanese Zen, Chinese Taoist hermit, Native American, to name just a few. I am moved and impressed."
–Frank W. Berliner, author of ​Falling in Love with a Buddha​ and Bravery: The Living Buddha Within You 
"These poems are a healing balm for the spirit; a beautiful map into the inner reaches of the heart. Thank you for sharing these wonderful teachings with the world, which will give many a gentle respite from the more drab aspects of living. To light another's heart is the greatest gift! They touched me deeply."
–Alcvin Ryuzen Ramos, shakuhachi daishihan (master), teacher and performer
"Of the ancient Taoists wandering their mountains of cloud and cave, some came to be known as the 'Immortals'. With this book, that term becomes apt, because we find that the deep wisdom still lives. These are reverent and revelatory poems that walk out of the mist, sit down among us on authentic contemporary soil, and offer us glimpse after glimpse of an inner-outer spaciousness we can open into. I love that the poems blend a humanness into their mysticism. They are cozy and intimate one minute, like sipping sake or tea, and in the next, they are formidable as the sitting of stone through snow."
–Walker Abel, author of The Uncallused Hand and Stories Dreamed from Dust and Distant Light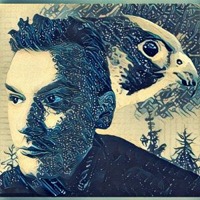 Frank LaRue Owen
Born into a family of artists, clergy, cowboys, fly fishermen, and poets, Frank LaRue Owen studied for a decade with a New Mexican wise woman and wilderness guide who guided him through a "curriculum" of Zen meditation, dream-tracking, poem-incubation, and earth-spirit work in the mountains, forests, and arroyos of Colorado and New Mexico. Influenced by the Chan (Zen)/Daoist/Pure Land hermit-poet tradition, American eco-poetry, and the wider human lineage of cross-cultural mystical poetry, Owen's poems are shaped by dreams, the seasons, diverse landscapes, myth-lines in the deeper strata of ancestral memory, and experiences with a practice he calls "pure land dreaming." Currently, he is working on his second book of poetry. Owen's other poetry and writing can be found at: www.purelandpoetry.com.