I think it annoys God if you walk by the color purple
in a field somewhere and don't notice it.
–Alice Walker
an excerpt from Woodland Mantiou by Heidi Barr
It was late fall the year that my daughter was eight months old and didn't care for the practice of sleeping. The leaves had fallen, the days were getting colder by the day, and I was tired. She wouldn't take a bottle, and I was her only source of food and often times, comfort. The daylight hours were getting shorter, and the news headlines were getting more unsettling. Work days were tiring even without the extra challenge of never sleeping more than three hours at a time. There was plenty of anxiety, despair and disappointment to be found in all sorts of places if I wanted to find those things. I needed something to remind me of the good that underlays the challenges of life. So I started forcing myself to acknowledge the little slices of joy, even in the midst of struggle. I dusted off an old journal and began writing down those little slices.
Looking back at the entries now, some days sounded pretty routine: "Witnessing the baby notice the world around her." Some days included events that will probably never be duplicated: "Watching a black bear cub ramble by my home office door and scramble up a dead tree and across the ravine in the back." Some days were more challenging: "The contrast provided by people who see the world differently." "The way an unexpected gift of soup from a neighbor can erase the loneliness of a day." Most days celebrated the way a body can move: "Yoga. The way the combination of movement and breath brings focus." And all days were punctuated by the vibrancy of the natural world: "Tangerine skies and evening shadows hinting at possibilities yet to come."
A few years later I still keep the gratitude journal, albeit not as consistently. Sometimes weeks go by before I crack it open and put pen to paper again. But whenever I go back to it, I am reminded that holding the intent to notice the things I am thankful for invites contentment and appreciation for what is to punctuate whatever is going on in my life. The beauty in the world can only grow if we remember to notice it.
When we notice the vibrancy, the good things and the gifts that are sprinkled into our experience and name them, we allow their power to seep into our very being and dictate the lens through which we view the world. Acknowledging those little slices of good shows me that when I look for hints of beauty in the mundane, when I notice what's right in my life, and when I see through a lens of gratitude, the world gets better. Relationships evolve in ways that are good for everyone, aches subside, and even sleepless nights become opportunities to give thanks.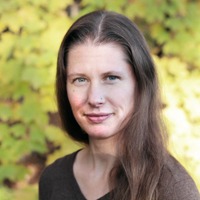 Heidi Barr
Author
Heidi Barr lives in Minnesota with her husband and daughter where they tend a large organic vegetable garden, explore nature and do their best to live simply.  As a mother, spouse, gardener, and wellness coach, she is committed to cultivating ways of being that are life-giving and sustainable for people, communities and the planet. Heidi holds a Master's degree in Faith and Health Ministries, and coordinates with yoga teachers and organic farms to offer nature-based retreat experiences.  Visit her at heidibarr.com.