We're celebrating National Poetry Month with the release of Amy Nawrocki's latest collection Reconnaissance. In her latest collection, Amy Nawrocki plays voyeur and thief, surveying canvases and investigating bookshelves, searching for creativity's origins and exploring the nature of inspiration. The poems in Reconnaissance uncover muses between the frayed pages of Byron and Shelley, in Chagall's stained glass, at Oscar Wilde's grave, past the deep bogs of Glencoe, and in the far away snow caps of Mount Fuji. In these insightful and elegant poems, Nawrocki invites us to believe in "the authenticity of first sight." Open the paint box and learn how to stare.
Look for Reconnaissance in paperback and ebook, on Amazon, Kindle, and Nook or ask for it in your local indie bookstore.
What Jodie Taught Me about Tattoos
—for Jodie Lane
She could not be buried,
her father told her,
with ink scalpelled into skin,
defacement of the body
prohibited by Jewish law.
With spider legs painted
around skull's demon visage,
she wore hers without apology
under stringy tank tops
and the ripped sarcasm
of baggy sweats around
a petite frame. She confided
obsessions over cigarettes
blurred into the falling leaves
of freshman year laughing,
never telling stories
of spiders or skulls, not minding
the sunflower I chose
for my own mark. We wanted
to ink into the eternal, forge
the intransient specter
of adulthood with scars
of our own making.
The last time I saw her
we sat for coffee between
darkened booths at the local
diner. A postcard sent
from Texas came a few years
later and then abbreviated
obituary lines stapled
between the alumni magazine,
electrocution, freak
accident walking dogs,
voltage engraving her body
with ungrounded shrieks
through a Manhattan sidewalk.
East 11th street is pocketed
with sewer drains and manholes,
and a street sign marks
the site where she fell.
I stare up into the permanence
of the story, one I kept hidden
in the flower on my shoulder,
the rumor of loss now etched
in visible lettering across
an overcast sky, persisting
beyond a combustible
and porous layer of skin.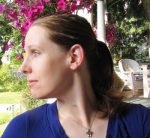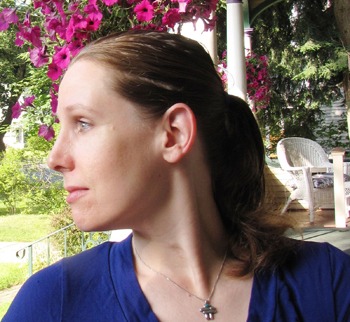 Amy Nawrocki is a Connecticut native, raised in Newtown and now living in Hamden. She earned a Bachelor's degree from Sarah Lawrence College and a Masters of Fine Arts from the University of Arkansas. She has received numerous honors for her poetry, including awards from the Litchfield Review Poetry Contest, the Codhill Chapbook Competition, The Loft Anthology, Phi Kappa Phi, New Millennium Writings, and the Connecticut Poetry Society. Finishing Line Press published her three chapbooks: Potato Eaters, Nomad's End, and Lune de Miel. With her husband, Eric D. Lehman, she wrote A History of Connecticut Wine, A History of Connecticut Food and A Literary History of Connecticut. She teaches English and Creative Writing at the University of Bridgeport and is mother to two cats, Maple and Django.
Reconnaissance
Poems by Amy Nawrocki
ISBN: 978-1-938846-69-4 | 6×9 | 100pgs
Pre-Order Now | List Price: $14.95
[wp_cart:Reconnaissance Preorder:price:14.95:end]
On a Mobile Device? Add Item to Cart and Checkout Here»