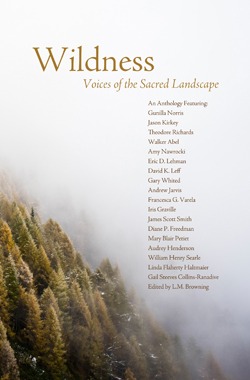 Wildness
An Anthology of Voices of the Sacred Landscape
Edited by L.M. Browning
List Price: $16.95 | Trade Paperback | 5.5×8.5 | 150pgs | 978-1-938846-71-7
"I only went out for a walk and finally concluded to stay out till sundown, for going out, I found, was really going in." ― John Muir
In celebration of Homebound Publications' 5th anniversary, the press has gathered together a circle of 19 of its most beloved authors to create this anthology exploring the confluence of the internal and natural landscape.
An Anthology Featuring:
Gunilla Norris
Jason Kirkey
Theodore Richards
Walker Abel
Amy Nawrocki
Eric D. Lehman
David K. Leff
Gary Whited
Andrew Jarvis
Francesca G. Varela
Iris Graville
James Scott Smith
Diane P. Freedman
Mary Blair Petiet
Audrey Henderson
William Searle
Linda Flaherty Haltmaier
Gail Steeves Collins-Ranadive
Edited by L.M. Browning
L.M. Browning
Founder & Publisher
L.M. Browning (Leslie M. Browning) is the award-winning author of ten titles. She grew up in the small fishing village of Stonington, Connecticut. A longtime student of philosophy, nature and art, these themes permeate her work. In her writing, Browning explores the confluence of the natural landscape and the interior landscape. A proud native of New England, she travels often throughout the region using her photography, drawing, and writing to explore the ecological and cultural identity of the Northeast.
In 2010, she debuted with a three-title contemplative poetry series: Ruminations at Twilight, Oak Wise, and The Barren Plain. These three books went on to garner several accolades including a total of 3 pushcart-prize nominations and the Nautilus Gold Medal for Poetry in 2013. She followed this success with, Fleeting Moments of Fierce Clarity: Journal of a New England Poet, which was named a finalist in the Next Generation Indie Book Awards and was nominated for a Pushcart Prize.
Balancing her passion for writing with her love of learning, Leslie sits on the Board of the Art's Cafe Mystic, a poetic art's venue that has run for 17 years in Mystic, Connecticut and has featured authors who are Poets Laureate of the U.S. and winners of the Pulitzer Prize, National Book Award, and MacArthur "Genius Award." She also sits on the Board of Directors for the Independent Book Publisher's Association. With over 3,000 members, IBPA is the largest publishing trade association in the U.S. She is a graduate of the University of London and a Fellow with the International League of Conservation Writers. She is Partner at Hiraeth Press; Co-Founder of Written River: An Anthology of Eco-Poetics as well as Founder and Editor-in-Chief of The Wayfarer. In 2011, Browning opened Homebound Publications and in 2015 went on to establish Owl House Books as an imprint of Homebound Publications devoted to genre fiction. She is currently working to complete an L.B.A. in Liberal Arts with a focus of Creative Writing and Journalism at Harvard University's Extension School in Cambridge, Massachusetts.
In addition to her career as a publisher, Browning is an accomplished freelancer for Rhode Island Monthly, Coastal Connecticut Magazine, and New Haven Magazine. Through her column "Reimagining the Possible" in The Wayfarer, she has interviewed such notable figures as Academy Award-Nominated filmmaker Tomm Moore, Peabody-winning host of On Being Krist Tippett, Emmy-winning Filmmaker Alan Cooke, and Sandy Hook mother Nelba Márquez-Greene.
To learn more go to www.lmbrowning.com