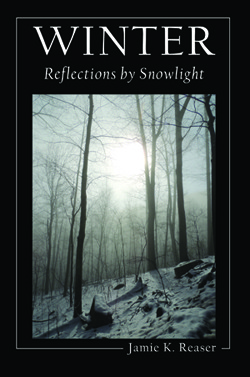 Winter
by Jamie K. Reaser
Overview
Jamie K. Reaser's newest collection of poetry is a celebration of simplicity. Written during winter snow storms, the poems explore the essence of the season and what it is to have the routines of modernity stripped away when the power goes out. In this simplicity reside the profound truths that Nature and human nature have to offer those who have the courage to sit still and get quiet enough to listen. Place your chair in front of a warm fire and take Winter: Reflections by Snowlight into your hands.
Praise for Winter
"Jamie K. Reaser's latest work is a love poem to the season of darkness, part of her broader mission to help us re-member who we are—embedded in the dark and dirty processes of the earth—and to help bring about that deep and important work of recognizing that there are no sacred or profane places or times, only stories we can tell that allow us to remember—or obscure—the sacredness of all. The coldness and darkness of winter is her muse, and her poetry can be ours in a time of darkness as well."
—Theodore Richards, author of The Crucifixion, Creatively Maladjusted, and The Conversions
"Winter is a time for reflection, rest, and regeneration. Jamie K. Reaser shares the magic of this season of life, as well as the harshness that this time can bring. Settle back into the beautiful and potent poetry in Winter: Reflections by Snowlight and absorb the deep wisdom shared."
—Sandra Ingerman, award-winning author of eight books, including Soul Retrieval
"Winter is written in the 'language of all things.' It is a snow-lit illumination of consciousness. With stillness at the center, the collection invites us to 'go inside' to an interior of the spirit, which can manifest in juncos, cedars, reindeer games, and simple offerings. In Winter, we find interrelatedness, a communion with the natural world."
—Gwendolyn Morgan, author of Crow Feathers, Red Ochre, Green Tea
"I grew up in the Arizona desert and have never been fond of the cold – especially harsh winter environments. In spite of the visual beauty of snow covered mountains and landscapes, somehow for me they have mostly felt inhospitable, threatening and unfriendly. After reading Jamie Reaser's Winter, my perception has shifted . . . indeed I have shifted.
My inner-world has been deeply touched and impacted by Jamie's poetry. It opened me to something incredibly beautiful– something new within myself and how I experience the world. "Winter" explores both the dark and the light–always with love, gratitude and appreciation for all that is – it is Nature – it is real. Needless to say I highly recommend this book!"
–Byron Metcalf, Ph.D., Award-winning musician and creator of "The Shaman's Heart – The Path of Authentic Power, Purpose & Presence"
"Jamie K. Reaser's poetry does not attempt to startle with exotic lands or obtuse language. Instead, she stays close to home. And yet, in her heartfelt voice, the common place becomes uncovered, and like the kiss that frees the frog, we see the true and royal estate of our everyday lives."
—Walker Abel, author of The Uncallused Hand
"Awakening to a snowstorm-wrought power outage in a cabin would leave most people worrying about their safety and comfort, but not poet Jamie K. Reaser, who immediately turns her concern to the well-being of nearby heavily-laden tree-boughs which she hastens to rescue. We, and they, know all are in good hands from the start.
And to the end, the suddenly bare-boned, candle-lit liminal space in which she dwelt bookends and threads through this wonderful collection. And while the first impression of a book entitled Winter: Reflections by Snowlight is that of a hushed atmosphere, the poet's sensibilities and consciousness soon have the abode haunted by her well-cultivated role of witness: the cabin is awash with quickenings, agile ponderings, enchantment, acute grief, and even Shamanic Christmas lore.
At times she is confident in her accrued knowing ("It can be a chore to learn to love what is cold and dark. I am older now and have wisdomed a gratitude…") at other times at sea and anguished, longing to shape shift away from shared suffering ("And there it is: The oath of silence that women took when they stopped being birds. I cried. I want to be a bird again").
But never does she self-indulge; never lose capacity for the poets's wonderful power to challenge the readers into greater Witness themselves. She teases the sacred out of the mundane with an immediacy that is Soul–nourishing.
Not only are the individual writings deftly composed (some more prose that poetry, a nice balance), but the overall arc of the book is wondrous: leaving us with a challenge that if we resist or rush to fill the lacunae in our lives: the power outages, the stillnesses, the invitations to the shores of deep mystery, we may well be acutely regretful when artificial life is restored, eclipsing such rich potential."
—Mary Trainor Brigham, author: DEEP CINEMA: Film as Shamanic Initiation
"Jamie K. Reaser's Winter is a conjuration and an education in sensitivity. In the austerity of winter she finds a cornucopia of unsuspected and rich beauties to appreciate and nourish herself on. She instructs us with gratitude, wonder, and grief.
In this collection, the poet teaches us that our responses to the harshness of the world within and without are related—and about what can be challenging to love in the cold assailing wintry landscapes, and in the inner life as well.
She calls us out of our hibernation in difficult circumstances, beyond our wish to remain in a cozy warm zone toward a re-wilding of our being that matches the power and pervasive moods of winter itself, revealing its rich variety, and our own. I encourage you to read on and see how she brings the magic and possibilities of the season alive—for example—by so fluently showing us one hundred words for snow that we can use to call up memories and refine our perception of the nuances. She teaches us how to see, be with, and accept, as she apprentices herself to feline companions. She shows us how to express gratitude with love to fallen trees that become fire wood, and to hear a rooster say its final goodbye through the howl of a moon worshipping fox.
She models for us how to care for the body and soul of broken plants and faithful animals. She mixes childhood ruminations and with Siberian shamanism and makes us cackle with delight as she describes the numinous power of the red spotted mushroom, Amanita muscaria, feeding the reindeer, and helping us imagine how Santa's sled can fly.
For all its variety and beauty her poetry does not whitewash or gloss any subject she touches. I say 'subject' for she continually reminds us of the inner life of all creatures and objects, and that they are worthy of respect and heart-open reciprocity. To me, Jamie K. Reaser's work is what living with a heart-open and earth-honoring shamanic sensibility are all about. She doesn't tell you about it. She shows you how to live it.
This is more than a book of poetry for the Wintry Inglenook. It is a satchel of practices for engagement."
—C. Michael Smith, Ph.D., author of the award-winning Psychotherapy and the Sacred, and Jung and Shamanism in Dialogue
Jamie K. Reaser
Author
Jamie K. Reaser has a deep fondness for the wild, intimate, and unnameable. She received a BS in Field Biology, with a minor in Studio Art, from the College of William and Mary and her doctorate in Biology from Stanford University. She has worked around the world as a biologist, international policy negotiator, environmental educator, and wilderness rites- of- passage guide. She is also a practitioner and teacher of eco- psychology, nature- based spirituality, and various approaches to expanding human consciousness, as well as a poet, writer, artist, and homesteader- in- progress. Jamie has a passion for bringing people into their hearts, inspiring the heartbeat of community, and, ultimately, empowering people to live with a heart-felt dedication to Mother Earth. Her writing explores themes at the interface of Nature and human nature. She is the editor of the Courting the Wild Series, as well as the author of Huntley Meadows: A Naturalist's Journal in Verse, Note to Self: Poems for Changing the World from the Inside Out, Sacred Reciprocity: Courting the Beloved in Everyday Life, Wild Life: New and Selected Poems, and Winter: Reflections by Snowlight. Jamie is a Fellow of the International League of Conservation Writers. She makes her home in the Blue Ridge Mountains of Virginia.