Cups of Coffee (and Counting)
our business philosophy
We value authenticity and fresh ideas. From the submissions process where we choose our projects right down to the crafting of each finished book, we aim to produce an experience that will enrich the lives of our readers.
ENVIRONMENTAL RESPONSIBILITY 
We greatly value the wild and invest in environmental conservation. Our books are printed on paper with chain of custody certification from the Forest Stewardship Council, Sustainable Forestry Initiative, and the Program for the Endorsement of Forest Certification.
Small Press, Big Ideas
We are a small press with big ideas set on publishing substance over flash. We routinely work with authors who don't fit neatly into the corporate publishing model, giving a voice to the countless independent thinkers currently neglected by the mainstream media.
Giving back
We have a strong sense of community. Over the years, we've donated to and worked with countless charities from the ACLU, to OXFAM, to the Make a Wish Foundation, to the Appalachian Trail Conservancy, the Edible Schoolyard and more.
More than a Company, We are a Community:
We Have the Power to Impact Our Future, and We're Doing Something About It
The First 9 Years: A Letter from Press Founder, L.M. Browning
In 2011, I founded Homebound Publications in an effort to bring together a community of like-minded thinkers and see what the dialogue yielded.  I gathered my friends and the most insightful colleagues I knew and began. I didn't know how the house would sustain itself or how anyone would even find our work—I couldn't answer all the questions of viability from a business standpoint —but I nonetheless felt the need for the space to create and that was enough. In the beginning, I didn't have any sense of how big the press would grow or how widely our titles would be shared. I simply carved out a space in which others could speak and share those deep thoughts they'd pondered, not because I saw the monetary profits in such an endeavor, but because I could see the benefit to the mind and soul.
I have always been an ardent believer in creative minds requiring a circle of fellows to push them. We've seen the prolific flow of ideas that occurs when the right community is gathered together to foster one another, whether it is in the Concord Transcendentalists, the Bloomsbury Group, or the Beat poets out in San Francisco. The discussion, the inspiration, the contemplation, and the community encourages the kind of boundary-pushing, ego destruction, and refinement of beliefs that bring about movements of change in the larger world. The circle I gathered back in 2011 has become bigger than I expected. It is composed of both reader and writer alike.
I think we all find our way through this life with the aid the communities we gather closest to us.  In these challenging times, when we all feel strained and lost, I urge you to gather your circle and keep them close. No one person knows the path forward. We chart the way together. I am grateful to you—our readers and contributors—for making the journey with us for the last eight years. I hope you'll continue with us for many more to come. There is a great deal more to explore and discuss.
With Gratitude

Leslie M. Browning
annual t-shirt fundraisers: visit our store on bonfire.com
lift up indie lit: donate to the press today
flip through the blog
Previews, interviews, announcements, and more!
get to know our authors
See the ever-growing circle of authors.
Are you a retailer?
We are distributed at standard trade terms by IPG and our titles are available through Ingram, Baker & Taylor, and more. OUR IMPRINT DEVOTED TO SHORT FORM
The vanguard podcast
Listen to the latest episode
Episode 2: Hermits, Poets & Trailblazers
In this episode we venture to New Mexico with bestselling author Gunilla Norris, explore climate change with poet/co-host L.M. Browning, roam the streets of Paris with award-winning novelist Eric D. Lehman, and strike a chord of the heart with Adam Christoferson, founder of Musical Intervention in New Haven, CT!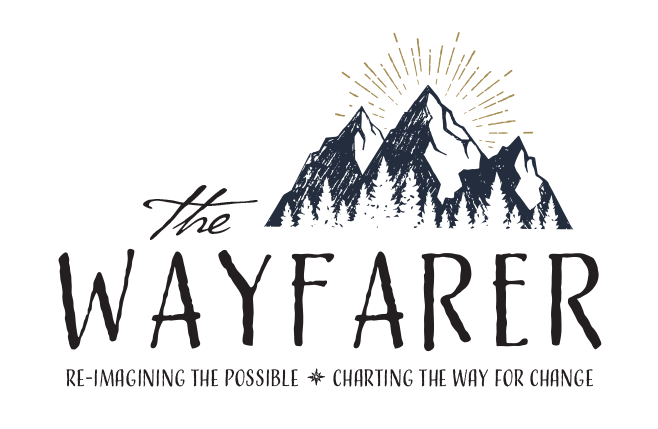 Explore our Magazine:  Since 2012, The Wayfarer has been offering literature, interviews, and art with the intention to inspires our readers, enrich their lives, and highlight the power for agency and change-making that each individual holds.
By our definition, a wayfarer is one whose inner compass is ever-oriented to truth, wisdom, healing, and beauty in their own wandering. The Wayfarer's mission as a publication is to foster a community of contemplative voices and provide readers with resources and perspectives that support them in their own journey.
Recent Wayfarers Featured
On Poetry and Being: An Exploration of Verse, Faith, and Poetry's Place in the Husbandry of the Soul
An Interview with Krista Tippett, Host of On Being
The Water Protectors of Standing Rock: A Mosaic of Voices from the Movement 
by L.M. Browning with Photos by Elizabeth Hoover
On the Path of Praise
An Interview with Dr. Rev. Matthew Fox
browse The Wayfarer Store
info ‹at› homeboundpublications.com
Postal Box 1442, Pawcatuck, CT 06379-1442
Passionate about independent storytellers? 

Join the circle.

Reach out to us . . . Send an email. (GASP) Pen a letter. Reach out to an authors. Ask a question. Tell us your story . . . Donate toward our future (if you are so inclined) . . . Just reach out to us. We are a community, not a company and you are a part of that community.