To Live in Paradise by Cindi McVey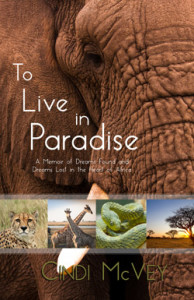 To Live in Paradise
A Memoir of Dreams Found and Dreams Lost in the Heart of Africa by Cindi McVey
2015 Independent Publisher Book Awards' Gold Medal for best Multicultural non-fiction!
2014 Green Festival Book Awards, Winner Best Memoir category and Honorable Mention in the general non-fiction category!
Reader Views Choice Awards. Honorable Mention in the Memoir/Biography category. Named winner in the Global Category: Africa
Overview
Set amid the magic and struggles of Africa, To Live in Paradise is the poignant memoir of a young American woman who finds herself swept up in an intriguing new life in Zimbabwe, just as this paradise country takes a critical turn in its history. As the idyll unravels, the nation applauded as Africa's success story plunges into a lawless land where tyrants rule. In a clash of humanity and earth, an unparalleled wilderness and a distressed nation both fight for survival. Her adventures include a cheetah attack, rioting crowds, inspiring safaris, and eye-to-eye snake encounters, shared with endearing characters who are her friends. Within this tale of an American's affair with a vibrant yet imperiled land, also unfolds a story of loss for one of Earth's last Edens.
Praise for To Live in Paradise
"While reading Cindi McVey's incredible narration, I felt as though I, too, was living in paradise. I could hear it, smell it, see it, and also felt a part of its loss. This book is a living adventure and cannot be put down!"
—Dave Barr author of Riding The Edge and Riding The Ice
"As you read this memoir, you gradually find yourself dwelling in a different mental continent. The spell of Africa—its pungent towns, its warm people, the constant proximity of exotic, dangerous, fascinating Nature all draw the reader into Cindi McVey's account of her experiences during her ten years in Zimbabwe. A book for anyone who thinks about getting away from his everyday world, if only as an armchair emigrant."
—Christina Vella, author of Intimate Enemies
Format: Paperback | ISBN 978-1-938846-25-0  | 326 Pages | Memoir/Travel
Other Formats: Kindle, Nook, Kobo
Start Reading
On a Mobile Device? View Cart Here»