quinn bailey
Award-winning author of The Currents of the World
Quinn Bailey is a poet, naturalist, and wildlife tracker who for the last seven years has been helping people find a deeper connection to the natural world through ancestral skills such as bird language, wilderness living, and cultural mentoring. Growing up between Orcas Island, Washington and Big Sur, California, he discovered a strong sense of belonging and curiosity about the natural world and feels most at home wandering the wooded hills and rocky shores surrounding the Salish Sea where he now lives.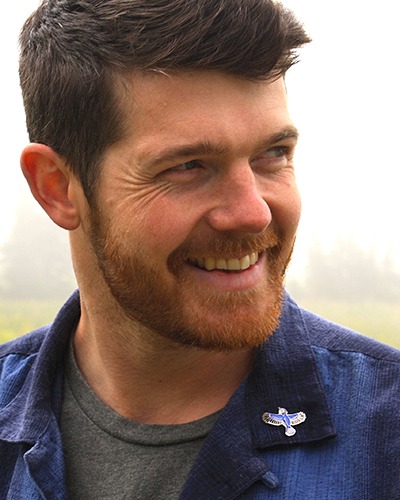 now available
The Currents of the World
Paperback | Size: 6 x 9 | Length: 120 pgs |  | List Price: 16.95
Finalist for the Homebound Publications Poetry Prize
 Purchase in Our Online Store Where 1 Book = 1 Tree Planted
_______________________
Available in Paperback and ebook.
*Receive 20% off when you purchase in our store
+ Free shipping on orders over $40.00 with coupon code: INDIESTRONG
In his first collection of poetry Quinn Bailey has crafted a book that is meant to live in your backpack, to be carried with you, as companion, field guide and friend as you traverse the rich wilderness of life. Inspired as much by the words of poets like Mary Oliver and Jim Harrison as by the songs of the trees and the birds, the poems within arise from a deep love of the natural world and call attention to the power an outer landscape has — to be all at once, mirror, compass, and divination tool for our inner landscape. Maybe our job is that of the Birds, Simply to collect the soft things Of the world And sing about it. Pulling from his years of experience working as a nature connection mentor and wilderness rites of passage guide, this book serves as a waypoint to anyone who is approaching, has come to, or just about to crossed a threshold and needs to be reminded that, "This world has only two true directions, towards and away. The big fear, in the end, is to awake and find that you chose away." Like most things these poems are best when shared, especially outside, especially out loud, and especially with the more then human world.
"Quinn Bailey is unashamedly in love with the world. His poetry is an insistent, mesmeric invitation to the greater life Mystery is calling us towards, alive with kindness, reverence for this 'world woven on a loom of broken things' and the joy of coming home to our wild, awakened heart."
–Tom Hirons, author of "Sometimes a Wild God", and "Nettle Eater"
"Quinn Bailey has a poet's genius for words… He deftly weaves threads that bring the natural world closer, but also takes us on intricate paths that lead to the edge of revelation. Reading through keeps taking you deeper within."

–Michael Meade, author of "Awakening the Soul"
info ‹at› homeboundpublications.com
Postal Box 1442, Pawcatuck, CT 06379-1442
Passionate about independent storytellers? 

Join the circle.

Reach out to us . . . Send an email. (GASP) Pen a letter. Reach out to our authors. Ask a question. Tell us your story . . . Donate toward our future (if you are so inclined) . . . Just reach out to us. We are a community, not a company and you are a part of that community.