Children to the Mountain
Poems by Gary Lindorff
Overview
In Children to the Mountain, Lindorff offers a metaphorical, modern-mythic walk through of our times, suing for nothing less than wakeful lucidity. The language in these poems is not for the timid of spirit; it pulls and pushes, it yanks us  down and inward, it pushes us to leave our comfort zones. Perhaps in the end it is initiatory. We are all children to the mountain, but we are also being summoned to the mountain, the seat of transformation of the weary human spirit.
Praise for Children to the Mountain
"With this collection—meditative, songlike, experimental, luminously metaphoric, sometimes conversational—Lindorff asks questions of fate, salting promise from his house, rooted in love…. 'Trying to remember how to live', he enters his Vermont landscape with an open heart, finding beauty in his cry, as his conscientious memory invokes compassion where he wanders."
–Terry Hauptman, author of The Indwelling of Dissonance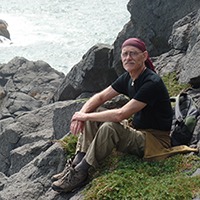 Gary Lindorff
Author
Gary Lindorff is author of New Wasichu, Crossing, 13 Seeds, Health, Karma and Initiation (a memoir), The Blue Man: Poems for the late Nuclear Age (2015, originally published in 1981), and The Last Recurrent Dream. He lives in Vermont with his wife, Shirley and three cats. With a forty year background in Jungian Psychology and individuation, Lindorff offers counseling as dreamworker and shamanic practitioner.