The Foundation of Summer by Eric D. Lehman is now available in paperback and ebook wherever books are sold! In this latest collection of stories, a scholar forges a masterpiece, a drug dealer solves a mystery, and two trackers chase each other through the space between the suburbs. Join the fanatics, impostors, murderers and fools who inhabit Eric D. Lehman's The Foundation of Summer, as they search New England for a season of transcendence.
Praise for The Foundation of Summer
From high-stakes culinary competition in New Haven to a manhunt through autumn woods, every story in Eric Lehman's The Foundation of Summer is a realistic but exceptional slice of life.
—Bill Ectric, author of Tamper and Time Adjusters
"The Foundation of Summer: New England Stories opens like a fine wine: take a sip of a slow, hot, New England summer with its spicy overtones of self and place…." | Read Full Review»
—D. Donovan, Midwest Book Review
"Whether his characters are collecting fiddleheads in Maine, swapping drinks in a Montreal bar, eating adventurously in New Haven, or speed-boating through stylish Westport, Eric D. Lehman turns words into palpable topography and architecture. In these well crafted stories, people 'at the mercy of forces we could never hope to challenge' keep an abiding faith that 'no trail followed to its end is useless.' Vividly realized individuals confront dilemmas of personality and circumstance, finding themselves redeemed by experience despite unexpected and uninvited outcomes. Reading these stories leaves you feeling as if you've been to these places and met these people."
—David Leff, author of Finding the Last Hungry Heart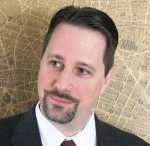 Eric D. Lehman is a travel and history writer, with reviews, essays, and stories in dozens of magazines and journals. He is also an award-winning author of many books, including Afoot in Connecticut,  The Foundation of Summer, A History of Connecticut Wine, Insiders' Guide to Connecticut, A History of Connecticut Food, Becoming Tom Thumb: Charles Stratton, P.T. Barnum, and the Dawn of American Celebrity, and Homegrown Terror: Benedict Arnold and the Burning of New London. In his spare time, he pursues Henry Miller scholarship and teaches creative writing and literature at the University of Bridgeport, where he directs the school literary magazine, Groundswell, and the faculty essay series, The Commons. He lives in Hamden with his wife, poet Amy Nawrocki, and his two cats.
Availability
Format: Paperback | ISBN 978-1-938846-58-8 | 174 Pages | Fiction/New England
Other Formats: Kindle, Nook, Kobo