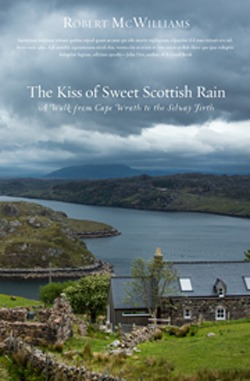 The Kiss of Sweet Scottish Rain
A Walk from Cape Wrath to the Solway Firth by Robert McWilliams
Overview
From Cape Wrath in the lonely northwest to a muddy estuary overlooking England, The Kiss of Sweet Scottish Rain takes the reader on a walk across Scotland. For Rob McWilliams–Scots-born but exiled since childhood–the walk is an obstinate ambition, and the start of a new direction in life.
McWilliams crosses wild and beautiful landscapes, meets an ever-changing cast of companions, and passes through communities from remote hamlets to the smiling, but rough-edged, city of Glasgow. Around every corner, he explores Scotland's turbulent history and unique cultural and natural heritage, from the Gaelic language, to the fearsome Highland midge, and how the Stone of Destiny–an ancient coronation symbol – could now reside in an unassuming Glasgow pub.
Struggling with terrain, injury, atrocious weather, and above all his own fragile confidence, McWilliams weaves into his narrative the threads of his life that led to the journey, and discovers that the rewards of adventure are rarely those that were anticipated.
The Kiss of Sweet Scottish Rain informs and entertains. As well as a ben or a castle, there is usually a joke just around the next turn in the trail.
Advance Reviews
"It's been said that Scottish weather consists of nine months of winter and three months of bad weather and while Rob McWilliams experienced some of those inclement conditions the memorable thrust of his account of walking the length of Scotland is of good
moments in bad days. This is a book that inspires and it urges you to grab your boots and turn your face to the wind and set off into the Celtic twilight."
–Cameron McNeish, hiker, author and television presenter
"The Kiss of Sweet Scottish Rain is travel writing at its best."
–David Miller, author of AWOL on the Appalachian Trail
"This is the story of a long, idiosyncratic walk . . . but it never strays far from the heart of essential Scotland: the wildness, the heritage, the history and the sheer breathtaking beauty of its landscapes."
–Dr. Terry Marsh, author of Walking the West Highland Way
With a naturalist's eye for detail and a poet's spirit, Robert McWilliams takes us on a vivid journey over moors, up mountains, and across rivers on his quest to walk the length of Scotland.  Along the way, he shares not only spectacular scenery and singular characters, but fascinating meditations on history, language, and the struggle to pursue one's dreams in a world filled with responsibilities and distractions.  McWilliams will get you lacing up your hiking boots.
—David K. Leff, Poet-in-residence for the New England National Scenic Trail and author of Canoeing the Legendary Allagash
Risking injury, storms, and midges, Robert McWilliams takes us with him on a heroic journey from one tip of Scotland to the other. He walks the misty green hills and dales, finds laughter amongst the Scottish locals, and enjoys the taste of oatcakes and beer. With such a knowledgeable and lyrical guide, you will want to set off immediately to the land of lochs for your own adventure. The Kiss of Sweet Scottish Rain is an extraordinary accomplishment in both deed and words!
—Eric D. Lehman, award-winning author of Afoot in Connecticut
"The Kiss of Sweet Scottish Rain is a ramble across hills and Highland burns. Robert McWilliams is the very best of guides. Walking with him, I drank straight from the stream, camped rough off the path, washed in wild rain, and found myself, at last, coming home."
—Jason Kirkey, author of The Taste of Water and Stone and The Salmon in the Spring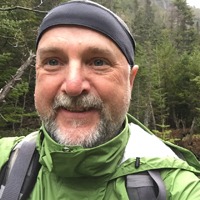 Robert McWilliams
Robert McWilliams was born in Glasgow, Scotland, but moved with his journalist father's job to the south of England at the age of three. Rob graduated from Wadham College, Oxford, with a BA Hons. in Modern History. After university, he worked as a tour guide and English teacher in France and Spain, before joining Reuters news agency in London. Rob spent 16 years at Reuters as a business manager in Hong Kong, Japan, the US, Venezuela and Brazil.
For nearly 20 years, Rob has lived in Connecticut with his wife and daughters, and is now a US citizen. Tired of corporate life, he quit his job to fulfill a stubborn ambition to walk the length of Scotland. He has contributed the Taking a Hike column to local newspapers every month for five years. Taking a Hike placed second in the general column category of the 2017 Connecticut Press Club awards.  Rob has also written for A.T. Journeys, the official magazine of the Appalachian Trail, and Ctvisit.com. The Kiss of Sweet Scottish Rain is his first book.
Rob enjoys hiking, and travel off the beaten track. He does consulting work on information privacy, and volunteers with the Nature Conservancy, Appalachian Trail and other outdoor causes.