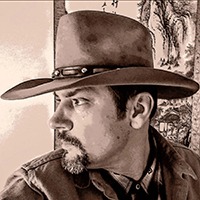 Frank LaRue Owen
Frank LaRue Owen's poetry is influenced by diverse sources including the teachings embedded within dreams, the seasons, the energies of various landscapes, and the churning gyre of the soul's journey, resulting in a poetic path his late teacher referred to as "deep-mapping of unseen reality, inner, outer".
Owen studied for a decade with a New Mexican wise woman and wilderness guide who — inspired by her own training in Zen and Mesoamerican spiritual traditions — blended contemplative practice, dreamwork, and nature spirituality rooted in the forests, arroyos, and mountains of the American Southwest. The practice of poetry was inseparable from this path…along with lots of green chilies and pan-fried tortillas.
He also studied eco-poetry and eco-literature with the late Jack Collom of the Jack Kerouac School of Disembodied Poetics.
In the Spring of 2017, his first book of poetry, The School of Soft-Attention, was selected as the winner of the 2017 Homebound Publications Poetry Prize, and was released by Homebound Publications a year later.