In her luminous poems, Ellen Grace O'Brian manages to braid contemporary moments of everyday life with ancient spiritual teachings—the sight of a hummingbird's red throat, bread on the table, a couple's quarrel, a mother's advice—become doorways into the divine mystical heart. The Moon Reminded Me, subtly laced with Sanskrit, gives us an insight into a poet who bridges two worlds eloquently enough to take us along with her. Sandhya, the numinous time for stepping into the temple, suddenly becomes this moment, now.
Look for it wherever books are sold. Including in the Homebound Publications.
*Purchase in our store and be a part of our reciprocity project: We are excited to announce Homebound Publications' Reciprocity Project. For the entire year of 2017, for every order that comes through our store, we will donate one new book to a library within the United States. • Learn More
Immerse yourself now. Read the first pages below.
Praise For The Moon Reminded Me
"In The Moon Reminded Me, Ellen Grace O'Brian shares a lifetime of deep wondering, weaving the presence of our inner life with the presence of life beyond our own. These bare, insightful poems are reminiscent of Basho, and more recently, Gary Snyder. She speaks of the storm from the eye of the storm in a way that affirms that life is worth living."
 —Mark Nepo, author of The One Life We're Given and The Way Under The Way 
"From one poem to the next, O'Brian's lens shrinks and widens without effort, to exhilarating, near vertiginous effect. Her images flit from the ordinary to the timeless, from the foam of a wave absorbed by sand, to the ancient longing of humans for the Eternal. Above all, she is aware, on every page, and beautifully, to the immovable presence of Love in the universe. Love unbridled and all-pervading, Love bursting with grace and beautiful madness, residing in us all, waiting only to unfurl. What a gift this collection is."
—Khaled Hosseini, NYT #1 Bestselling Author of The Kite Runner
"Here is a book of beautiful spiritual poems of unusual quality."
—Fr. Thomas Keating, author of Open Mind, Open Heart
"Ellen O'Brian invites us into her soul, the space where poetry is born. Here human individuality engages with a wider Self. In this contemplative space words point to the concrete realities that unveil another Reality. Accept this invitation—this is good company to be in."
—Kabir Helminski, translator of Rumi, author of Living Presence and The Knowing Heart
"These glimpses into the spacious love of the Divine are testaments to Ellen's awakening and invitations to your own. Savor this book."
—Rabbi Rami Shapiro, author of Accidental Grace
"These poems illuminate the soul, delicately, lightly, with measured emotion. Ellen Grace O'Brian manages to express spiritual practice as life, beyond doctrine, and straight to the heart.  'Be a jagged edge/falling in love/one salty kiss/at a time.'"
—Norman Fischer, poet and Zen Buddhist priest, author of Magnolias All At Once and What Is Zen?: Plain Talk for a Beginner's Mind
In The Moon Reminded Me, Yogacharya Ellen Grace O'Brian presents a rare combination of deep yogic vision and intricate poetic skill, awakening us to our inner journey of Self-realization.
—Dr. David Frawley D.Litt., author of Vedic Yoga: The Path of the Rishi and Shiva: The Lord of Yoga
"In her book, The Moon Reminded Me, Yogacharya Ellen Grace O'Brian has so gracefully shared her life's journey, depth of her insight and devotion in a most meaningful language of poetry. Highly recommended."
—Nahid Angha, Sufi scholar, executive editor of Sufism Journal
"In her savory, contemplative verse, Yogacharya O'Brian crosses and penetrates the boundaries of tradition. Like Whitman, she illuminates the transcendent in the immanent. Like Leonard Cohen, she points to the light that enters the cracks in everything, even despair. Like the Zen poets, she evokes the sublime in the ordinary. Like the psalmists and bhaktas, she sings out in praise and cries out with longing for God, which is, in itself, a divine connection."
—Philip Goldberg, author of American Veda: From Emerson and the Beatles to Yoga and Meditation, How Indian Spirituality Changed the West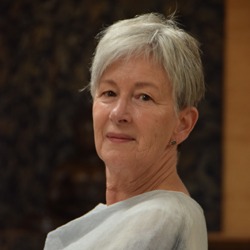 Yogacharya Rev. Ellen Grace O'Brian, M.A., is a teacher, writer, and spiritual director of the Center for Spiritual Enlightenment (CSE) with headquarters in San Jose, California, USA. CSE is a Kriya Yoga Meditation Center serving people from all faith backgrounds who are seeking Self- and God-realization. She was ordained to teach in 1982 by Roy Eugene Davis, a direct disciple of Paramahansa Yogananda who brought Kriya Yoga from India to the West.
Yogacharya O'Brian has taught yoga philosophy and meditation practices for spiritually conscious living at retreats, spiritual centers, and conferences throughout the US and internationally for over three decades. She is the author of several books on spiritual practice published by CSE Press, including Living the Eternal Way: Spiritual Meaning and Practice in Daily Life; A Single Blade of Grass: Finding the Sacred in Everyday Life; and Living for the Sake of the Soul, as well as three volumes of poetry, One Heart Opening: Poems for the Journey of Awakening; The Sanctuary of Belonging; and The Moon Reminded Me published by Homebound Publications. She writes regularly for Truth Journal magazine, is the editor of Enlightenment Journal, a quarterly yoga magazine, and host of The Yoga Hour, a weekly radio program and podcast with Unity Online Radio.
She is the founder and president of Meru Institute, offering certification programs, leadership training, and education in Yoga, Ayurveda, and Community Ministry since 1996 and leads Carry the Vision, a community education nonprofit organization teaching principles and practices of ahimsa to all sectors of society. Yogacharya O'Brian served as the Vice Chair of the Board of Trustees of the Parliament of the World's Religions and is a recipient of several community service awards including the prestigious 2015 Mahatma Gandhi Award for the Advancement of Religious Pluralism by the Hindu American Foundation. She lives in Santa Cruz, California with her husband Michael. They have three fabulous grown children and two precocious grandchildren.