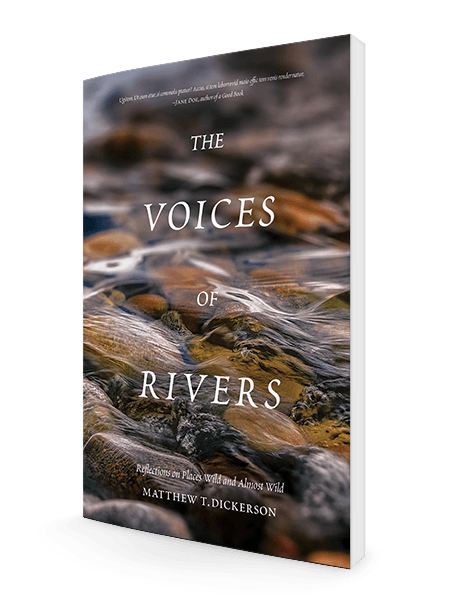 The Voices of Rivers
by Matthew Dickerson
Available Wherever Books are Sold Including
Pbk: Amazon • Barnes & Noble • Indiebound.org
*Shop in our store. You will save 20% off your entire order with coupon code INDIESTRONG. In addition, you will support the ideas and culture beyond the mainstream!  
Plus, as always, you'll receive free shipping on orders over $40.00
Overview
Dickerson's lovingly crafted narratives take us to waters from sockeye spawning streams of Alaska's Lake Clark and Katmai National Parks, to Rocky Mountain rivers in the national parks and forests of Montana and Wyoming, to the little brook trout creeks in his home waters of Maine. Along the way we will fall in love with arctic streams, glacial rivers flowing green with flour, alpine brooks tumbling out of melting snow, and little estuaries where lobsters and brook trout swim within a few yards of each other; with wide deep lakes, little mountain tarns with crystal clear water, and tannin-laden beaver ponds the color of tea. The narratives are creative, personal, and compelling, yet informed by science and history as well as close observation and the eye of a naturalist. The characters in the stories are fascinating, from fly fishing guides to fisheries biologists to wranglers to Dickerson himself who often explores the rivers with a fly rod in hand, but whose writing transcends any sort of fishing narrative. But the most important characters are the rivers themselves whose stories Dickerson tells, and whose music he helps us to hear.
Advance Praise for The Voices of Rivers
For the earnest fly fisherman, life on earth is measured by encounter, not only with the cutthroat or the brookie, but with the big story being written beneath all things. Matthew T. Dickerson stewards the whole of the world through his insistence on direct experience with the primal domain and, The Voices of Riversis water-marked with the cultivated sensibilities of a devoted guide. I would fish with him any day of the week.
 ―James Scott Smith, author of Water, Rocks and Trees
The Voices of the River takes you to some of our countries most precious places and immerses you, not only in its rivers, but also its mountains and forests. You feel the water rush by, watch the wildlife and touch the earth, today, and with an appreciation and urgency to protect these grand yet vulnerable places. Matthew Dickerson writes with an Aldo Leopold-esque ability to describe his surroundings and make you treasure these public places. This book is a must-read, surely for anglers who take pleasure in casting for dolly varden, brook trout and other native fish, and for those who care about the health of our peaks, woodlands and waterways. More importantly, this book is for those disconnected from our wild lands and water by distance or desire, or those who simply don't think about it. After reading The Voices of the River, you will.
 ―Lisa Ballard, Three-time Emmy-winning producer/host, Wildlife Journal (PBS); Past-president, Outdoor Writers Association of America
Matthew Dickerson combines a boyish delight in fishing with a very adult understanding of the plight of our native fisheries from Maine to Alaska.  And the perspicacity of his prose is a great source of delight to us all, fishers and non-fishers alike.  Whether pursuing brook trout or Dolly Varden, Dickerson knows both the thrill of the cast and the agony of horribly compromised habitat.  We are all the more gleeful and sadly wiser for his efforts.
 ―Paul J. Willis, author of Deer at Twilight: Poems from the North Cascades
If Izaak Walton's Compleat Angler deserves credit for inspiring the rich literature of fly-fishing, Matthew Dickerson's The Voices of Rivers immediately merits a place at the current end of that enticing shelf. In addition to Dickerson's vivid accounts of fishing for trout (mostly) in the rivers of Colorado, Montana, Alaska, and Maine, his new book also conveys an thoughtful and informative perspective on trout ecology and conservation and the importance of public lands for the health of our earth. His highly engaging voice ties this all together with its narrative energy, excitement, and humor. Dickerson's approach to fishing is in most cases catch-and-release. But this book is definitely a keeper.
―John Elder, author of Frog Run and Reading the Mountains of Home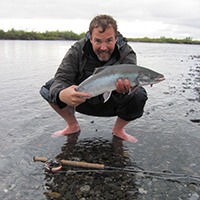 Matthew Dickerson
Matthew Dickerson (
www.matthewdickerson.net
  and
www.troutdownstream.net
)
was a June 2017 artist-in-residence at Glacier National Park and a May 2018 artist-in-residence at Acadia National Park. He is the author of several works of fiction and creative non-fiction, as well as literary explorations of mythopoeic literature with a particular focus on environmental aspects of the writings of J.R.R.Tolkien and C.S.Lewis.
His previous narrative non-fiction nature writing includes several books about rivers and the trout that dwell in them : Downstream: Reflections on Brook Trout, Fly Fishing, and the Waters of Appalachia, Trout in the Desert: on Fly Fishing, Human Habits, and the Cold Waters of the Arid Southwest, and A Tale of Three Rivers: of Wooly Buggers, Bowling Balls, Cigarette Butts, and the Future of Appalachian Brook Trout. His most recent novel is a work of medieval historical fiction titled The Rood and the Torc, set in 7th-Century Europe and inspired by a fragment of the medieval poem Beowulf. He is also the co-author of Ents, Elves, and Eriador: the Environmental Vision of J.R.R.Tolkien, Narnia and the Fields of Arbol: the Environmental Vision of C.S.Lewis, and From Homer to Harry Potter: a Handbook of Myth and Fantasy.
Dickerson has also written essays for several periodicals ranging from literal journals to fly fishing magazines, including: Written River, Image, The Other Journal, Middlebury Magazine, Books and Culture, Creation Care, Eastern Fly Fishing, and The Drake.  He is a professor at Middlebury College in Vermont where he has had affiliations with the Computer Science Department, Environmental Studies Program, Writing Program, and the New England Young Writers Conference at Bread Loaf.