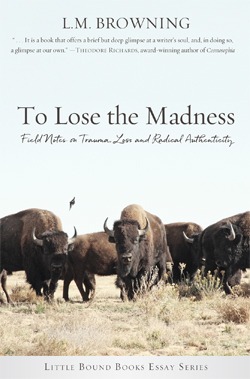 To Lose the Madness
Field Notes on Trauma, Loss and Radical Authenticity
by L.M. Browning
Available Wherever Books are Sold Including
Pbk: Amazon • Barnes & Noble • Indiebound.org
eBook: Kindle • Nook • iTunes
Imprint: Little Bound Books – Essay Series
*This title will be released April 10th, 2018
Overview
In this career-defining work, Browning explores the breaking point every mind has after finding her own limit during a gauntlet of traumatic events. Pulled out of this blast-crater moment in her life by a friend, she is brought away from the insanity and deep into the snowy Sangre de Cristo Mountains where, standing in front of a herd of wild buffalo, she comes face to face with the terms we all must come to surrounding the loss we face in this life. Offering no answers and seeking no pity, Browning lays herself bare in this radically authentic offering. She carries restricted subjects such as miscarriage, mental illness, and suicide out of the silence by offering her own private journey as an example of the power of transcendence.
Advance Praise
"Impressively candid and articulate, extraordinarily honest and insightful, exceptionally well written, organized and presented, To Lose the Madness: Field Notes on Trauma, Loss and Radical Authenticity is an inherently compelling read from cover to cover. Thoughtful and thought-provoking from first page to last, To Lose the Madness is unreservedly recommended for personal reading lists, as well as community and academic library collections."
–Midwest Book Review, *Reviewer's Choice
"Browning brings us inside the disoriented unfolding of a life taking new shape after trauma. This is not a 'tie a neat bow around it' trauma and recovery story with a too-simple happy ending, but a messy, honest look at a life that will never be the same."
–Lilly Dancyger, author of Hunted: A Memoir of Art and Addiction and Deputy Editor of Narratively
"To Lose the Madness is an essay built from the bones of the earth. Browning offers a stripped down, belly-to-the-ground, howling manifesto to authenticity, the truth that resides beneath layers of flesh and soil. It is a roadmap of hard-won scars and suffering, the kind of suffering that carves a life like glaciers carve landscapes. Where it has been, a riverbed of beauty and self-knowledge has been left."
–Jason Kirkey, award-winning author of The Salmon in the Spring
"This is L.M. Browning's most personally revealing book to date—and perhaps her best. As intensely personal as it is, it grapples with questions and struggles that are universal, questions that afflict modern humanity, questions that we really haven't figured out at all. What is the way to deal with pain in a world that seems so intent on sanitizing and sedating us? Do our struggles serve some useful purpose? How, in an age of shallowness can we re-claim our deepest selves? How, in in age of individualism, can we re-discover our place in the family of life? Rather than provide facile answers, Browning offers her own journey as evidence for the possibility of healing not through forgetting or letting go, but by entering more deeply into the story of our pain; and she offers a way to engage with suffering not merely by looking within, but by engaging the cosmos, by entering into deeper relationship with the community of living beings. It is a book that offers a brief but deep glimpse at a writer's soul, and, in doing so, a glimpse at our own."
–Theodore Richards, award-winning author of Cosmosophia
"L.M. Browning's To Lose the Madness is rife with the paraclete, one who comes alongside, to console and to encourage. But this is no trending self-help pablum complete with formulas for accelerating grief or sidestepping trauma. Instead, this is a courageous gift of self-disclosure, complete with unvarnished truth about human suffering and our search for meaning. This is a road trip with a friend, one who's been there, and who knows the only way home is through."
–James Scott Smith, author of Water, Rocks and Trees and The Expanse of All Things
"To Lose the Madness, teaches much about 'trauma, loss, and radical authenticity' with wisdom, awe, and grace. While her journey is unique, it reveals the universality of brokenness and the yearning for connection. I'm grateful for Browning's willingness to explore her own suffering—and transcendence—so honestly and poetically; the resulting generous, sage essay is a guide for everyone."
–Iris Graville, author of Hiking Naked
L.M. Browning
Founder & Publisher
L.M. Browning (Leslie M. Browning) is the award-winning author of ten titles. She grew up in the small fishing village of Stonington, Connecticut. A longtime student of philosophy, nature and art, these themes permeate her work. In her writing, Browning explores the confluence of the natural landscape and the interior landscape. A proud native of New England, she travels often throughout the region using her photography, drawing, and writing to explore the ecological and cultural identity of the Northeast.
In 2010, she debuted with a three-title contemplative poetry series: Ruminations at Twilight, Oak Wise, and The Barren Plain. These three books went on to garner several accolades including a total of 3 pushcart-prize nominations and the Nautilus Gold Medal for Poetry in 2013. She followed this success with, Fleeting Moments of Fierce Clarity: Journal of a New England Poet, which was named a finalist in the Next Generation Indie Book Awards and was nominated for a Pushcart Prize.
Balancing her passion for writing with her love of learning, Leslie sits on the Board of the Art's Cafe Mystic, a poetic art's venue that has run for 17 years in Mystic, Connecticut and has featured authors who are Poets Laureate of the U.S. and winners of the Pulitzer Prize, National Book Award, and MacArthur "Genius Award." She also sits on the Board of Directors for the Independent Book Publisher's Association. With over 3,000 members, IBPA is the largest publishing trade association in the U.S. She is a graduate of the University of London and a Fellow with the International League of Conservation Writers. She is Partner at Hiraeth Press; Co-Founder of Written River: An Anthology of Eco-Poetics as well as Founder and Editor-in-Chief of The Wayfarer. In 2011, Browning opened Homebound Publications and in 2015 went on to establish Owl House Books as an imprint of Homebound Publications devoted to genre fiction. She is currently working to complete an L.B.A. in Liberal Arts with a focus of Creative Writing and Journalism at Harvard University's Extension School in Cambridge, Massachusetts.
In addition to her career as a publisher, Browning is an accomplished freelancer for Rhode Island Monthly, Coastal Connecticut Magazine, and New Haven Magazine. Through her column "Reimagining the Possible" in The Wayfarer, she has interviewed such notable figures as Academy Award-Nominated filmmaker Tomm Moore, Peabody-winning host of On Being Krista Tippett, Emmy-winning Filmmaker Alan Cooke, and Sandy Hook mother Nelba Márquez-Greene.
To learn more go to www.lmbrowning.com