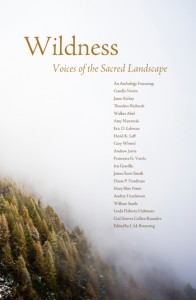 Wildness: Voices of the Sacred Landscape is now available in paperback!
"I only went out for a walk and finally concluded to stay out till sundown, for going out, I found, was really going in." ― John Muir
In celebration of Homebound Publications' 5th anniversary, the press has gathered together a circle of 19 of its most beloved authors to create this anthology exploring the confluence of the internal and natural landscape.
An Anthology Featuring: Gunilla Norris, Jason Kirkey, Theodore Richards, Walker Abel, Amy Nawrocki, Eric D. Lehman, David K. Leff, Gary Whited, Andrew Jarvis, Francesca G. Varela, Iris Graville, James Scott Smith, Diane P. Freedman, Mary Blair Petiet, Audrey Henderson, William Searle, Linda Flaherty Haltmaier, Gail Steeves Collins-Ranadive, edited by L.M. Browning.
Add this anthology to your home library. Visit our bookstore or order on Amazon.com, Barnes and Noble, or ask for it in your local indie bookstore.