Theodore Richards is a philosopher, poet and novelist. As the founder of The Chicago Wisdom Project and editor of the online magazine Reimagining: Education, Culture, World, his work is dedicated to reimagining education and creating new narratives about our place in the world. He has received degrees from various institutions, including the University of Chicago and The California Institute of Integral Studies, but has learned just as much studying the martial art of Bagua; teaching in various settings and students; and as a traveler from the Far East to the Middle East, from southern Africa to the South Pacific.
His books include Handprints on the Womb, a collection of poetry; Cosmosophia: Cosmology, Mysticism, and the Birth of a New Myth, recipient of the Independent Publisher Awards Gold Medal in religion and the Nautilus Book Awards Gold Medal; the novel The Crucifixion, recipient of the Independent Publisher Awards bronze medal and the USA Book Award; Creatively Maladjusted: The Wisdom Education Movement Manifesto, finalist for the USA Book Award; his most recent novel, The Conversions; The Great Reimagining: Spirituality in an Age of Apocalypse, recipient of the Nautilus Book award; and A Letter To My Daughters: Remembering the Lost Dimension & The Texture of Life. He lives in Chicago with his wife and daughters.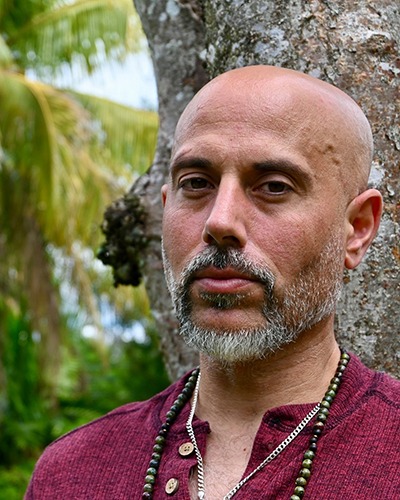 award-winning
A Letter to My daughters
978-1947003934 |  Trade paperback  |  4 x 6  | List: $12.95
Before you were born, I went on a journey that would take me around the world completely, a spherical, three-dimensional journey. A journey of dirt and blood. A journey of taste and bodily sensation. A journey of texture. I am writing you because I want you to live in this world, to feel it in its fullness, its depth. I want you to fall in love with the world, flawed and sorrowful as it is. Your lives and the world as a whole—these are indistinguishable to me—depend on this.
_______________________
Available in Paperback and ebook.
*Receive 20% off when you purchase in our store
+ Free shipping on orders over $40.00 with coupon code: INDIESTRONG
award-winning
Cosmosophia
978-0979924682 |  Trade paperback  |  5.5  x  8.5. | 350pp  | List: $17.95
"Richards writes skillfully and soulfully about the most pressing issues of our times, and the deeper crisis out of which they have emerged. Drawing from a vast trove of knowledge about the world's religious, mystical, and philosophical traditions, he extracts the most valuable gems, polishes them with the revolutionary insights of modern science, and forges a radiant, new cosmosophy—a universal wisdom that honors the wisdom of the universe. The beauty of this mythos is that it, like the cosmos, is not static but dynamic, inviting our active participation and imaginative engagement.This book succeeds in instilling reverence for a living universe and hope for a dying planet. May Cosmosophia blossom and flourish in the hearts of all beings!" —Darrin Drda, author of The Four Global Truths
_______________________
Available in Paperback and ebook.
*Receive 20% off when you purchase in our store
+ Free shipping on orders over $40.00 with coupon code: INDIESTRONG
More offerings from theodore richards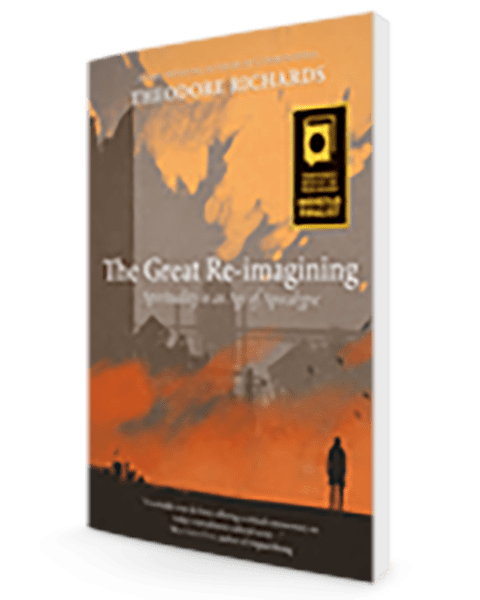 by Theodore Richards
"This book is a veritable tour de force offering a critical commentary on today's tumultuous cultural scene.  Placing our times in the context of apocalypse or end times seems strikingly well timed given the current goings on in the dark Trump/Bannon political moment.  While unveiling causes for our dilemmas and feelings of powerlessness, Richards also provides ways to revelation and empowerment and therefore to hope.  He covers themes such as the end of capitalism, the farming revolution, the tech revolution, education at the edge of the world, religion, science and spirituality in 12 chapters that are critically thought out, succinctly written, convincingly argued, and bearing a visionary perspective that borders on the prophetic.  This book provides a vision for twenty-first century activists that could match that offered by Herbert Marcuse to the 1960's generation calling as it does for a spiritual revolution that re-connects psyche and cosmos, cultural criticism and a preference for community over individualism."
–Mathew Fox, author of Original Blessing
by Theodore Richards
Education is the subject of much public debate. Politicians and bureaucrats, educators and parents, students and concerned citizens all have an interest—and a stake—in the way we educate our children. But while much is said about the subject, seldom are the more profound, difficult questions ever asked, questions that require not only changing the way schools are organized and classes are taught, but also require a radical transformation of the very concept of education in the modern world. Creatively Maladjusted: The Wisdom Education Movement Manifesto approaches the problem of education from just such a radically new perspective.
Readers can order books directly from Homebound Publications & Divisions online where we have the never-ending sale. You can always save 20% on your entire order coupon code: INDIESTRONG  + free shipping on orders over $40 with .
Retailer? All Homebound Publications titles are distributed by Publisher's Group West, and are available through wholesalers such as Ingram and Baker & Taylor.
Your donations will be placed towards expanding the number of titles we are able to accept each year, giving a voice to the countless independent thinkers currently neglected by the mainstream media. Now, more than ever, your support is appreciated. 
LEARN MORE ABOUT THE GIFTS YOU GET FOR GIVING
info ‹at› homeboundpublications.com
Postal Box 1442, Pawcatuck, CT 06379-1442
Passionate about independent storytellers? 

Join the circle.

Reach out to us . . . Send an email. (GASP) Pen a letter. Reach out to an authors. Ask a question. Tell us your story . . . Donate toward our future (if you are so inclined) . . . Just reach out to us. We are a community, not a company and you are a part of that community.