Scott Edward Anderson
author of Falling Up
Scott Edward Anderson is the author of DWELLING: an ecopoem, FALLOW FIELD, and WALKS IN NATURE'S EMPIRE. He has been a Concordia Fellow at the Millay Colony for the Arts and received the Nebraska Review Award. His poetry has appeared in The American Poetry Review, Alaska Quarterly Review, Cimarron Review, The Cortland Review, The Wayfarer, and two anthologies. His essays and reviews have appeared in basalt, The Bloomsbury Review, Cleaver, the Philadelphia Inquirer, Schuylkill Valley Journal, and elsewhere. For many years, he has worked in conservation, social enterprise, and clean energy consulting with such organizations as The Nature Conservancy, Ashoka, VerdeStrategy, and EY. He lives in Brooklyn, NY, with his wife, Samantha, and their blended family.

Visit him at scottedwardanderson.com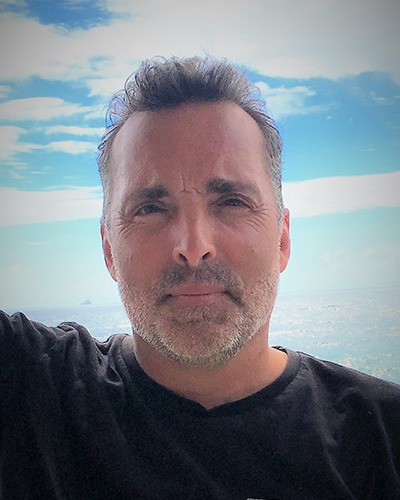 now available
Falling Up: A Memoir of Second Chances 
Paperback | Size: 4 x 6 | Length 84 pgs |  | List Price: 12.95
Little Bound Books Essay Series
_______________________
Available in Paperback and ebook.
*Receive 20% off when you purchase in our store
+ Free shipping on orders over $40.00 with coupon code: INDIESTRONG
"An inspiring one-sitting read, this episodic memoir is a gentle reminder that no matter whether we possess precocious genius or bloom late, it is not important whether we leap or fall—it is essential that we descend to rise. Falling Up is a small but multi-faceted gem."

–Whitney Johnson, author of Disrupt Yourself
Falling Up is a moving personal essay about the struggle to become an authentic, vulnerable, purpose-driven man in the 21st century and, ultimately, about making one's dream a reality. Along the way, award-winning poet, Scott Edward Anderson learns to see the world anew through the eyes of his children, through a deep engagement with the natural world, and through learning—and teaching others—to tell stories in a more personal way. Falling Up is a late bloomer's coming-of-age story as much as it is a book about choice, intention, and commitment.
"A brief, bold, and brave view into the inner and outer life of a man with a mission."
–Maria Rodale, author of Organic Manifesto
"Anderson's account of his search for what matters most might be the nudge that readers need to find their own second chance. An inspiring read for anyone seeking meaning in their work or in their life."
–Mark R. Tercek, CEO of The Nature Conservancy and author of Nature's Fortune
1. The Fall
"Steve jobs is dead," I said.
A collective gasp went through the audience. We all knew he'd been sick—his seven-year battle with pancreatic cancer was well-covered by the media—still, the news of his death that morning was a shock. The Apple-founder, perhaps the most consequential tech CEO in history, had transformed our lives in so many ways and now he was dead. He was fifty-six years old. In that relatively short lifespan, he'd accomplished so much—arguably, many of us were at this conference, a gathering of some of the best and brightest from the worlds of technology, culture, and sustainability, because of his example. He'd touched so many, regardless of whether we used Apple products. Indeed, he had inspired a lot of people at the conference and around the globe to devote themselves to changing the world for the better.
Fifty-six. As I stood on the stage that October morning in 2011, a couple of years shy of fifty myself, I couldn't help thinking—as perhaps many in the room were thinking, too, in the wake of the example of Jobs—what have I done with my life? Have I lived up to my full potential? Have I done everything I could to make the world a better place? Isn't that why we're here? Not just here at this conference, billed as "three days to save the Earth," but on the planet itself. Perhaps everyone in the room, like me, weighed their achievements, their aspirations, and how they had lived their lives. And perhaps, like me, everyone wondered how they wanted to spend the rest of their time on the planet.
For me, the run-up to that October day had been a year of constant turmoil and self-torturing reflection. My thoughts and feelings ran riot in my mind, veering from a tormenting sense of failure and inadequacy to an inflated sense of self-worth and hubris, from a pessimistic view of my prospects to a belief in the abundance that would come my way through persistence. My career had been in a major upheaval over the previous four years as I pivoted from a decade and a half working in conservation onto a new path trying to establish myself in cleantech and alternative energy. My marriage of nearly twenty years was on the verge of collapse—I'd been painfully unhappy for many years and was desperate to leave, but with three kids under the age of sixteen, I felt paralyzed by the potential impact leaving would have on them. As if that wasn't enough, I'd fallen in love outside of marriage and felt compelled to seize the opportunity offered by this new relationship or risk losing what I saw as the chance of a lifetime—a last chance at happiness and authentic, uncompromised love.
Jobs's death struck a chord—he was such an uncompromising, disruptive, and creative person—a genius—always remaining true to himself and to his vision. Had I been true to my dreams? Had I lived my most authentic, purposeful life? If not, what was I waiting for? Life is short, I thought, and if I couldn't take the leap now, would I ever?